December 04, 2017
19 Fun and Easy Elf on the Shelf Ideas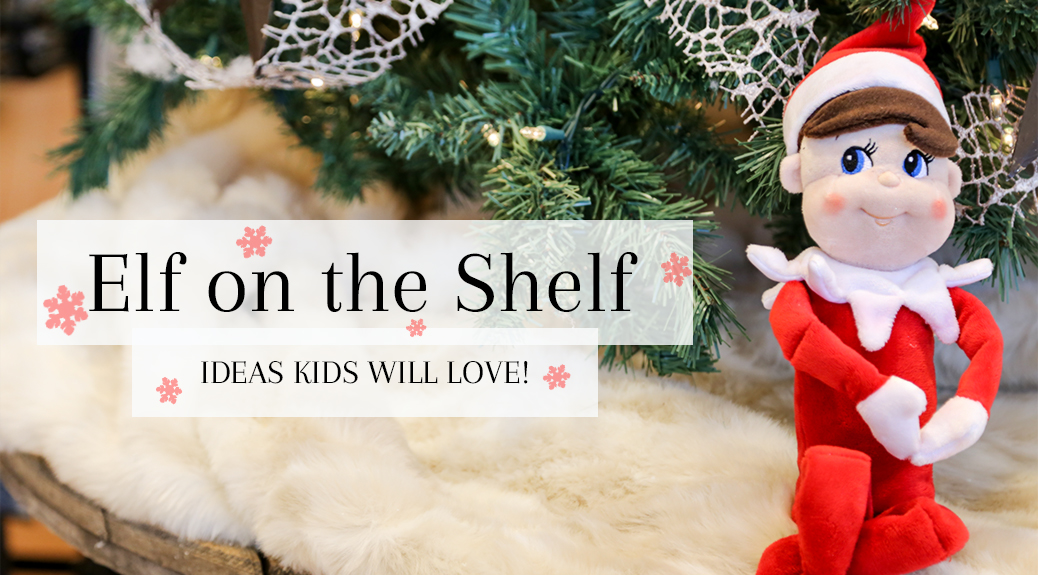 If your family celebrates the holiday with an elf, we have good news for you: Elf on the Shelf is back for another season of fun and games! After a while, however, it can be hard to think of new games for your elf to play. If you're feeling stuck, don't get your tinsel in a twist. Here are 19 fun, easy Elf on the Shelf ideas, so your elf can inspire fun and laughter all month long.
What is Elf on the Shelf?
---
If you have never heard of Elf on the Shelf, you are missing out! Elf on the Shelf is a popular family Christmas tradition where Santa sends one of his scout elves to watch over a family from the first of December until Christmas Eve. The family adopts and names their elf, filling him with Christmas magic. His magic allows him to fly to the North Pole and back each and every night, so he can tell Santa if the children in his family have been naughty or nice.
After visiting Santa, the elf returns to his family while everyone is still fast asleep. While he waits for everyone to wake up, he plays! Sometimes his playtime gets a little messy, as an elf can be quite mischievous. Kids and parents alike love waking up to find the results of their elf's overnight hijinks.
Whether he turned all the books in the house backwards, helped the family prepare for Christmas or made a small mess in the kitchen, an Elf on the Shelf provides hysterical fun for the whole family!
Elf on the Shelf Ideas
---
Moving your elf and preparing him for the next morning can be a daunting task. However, it can also be a lot of fun! You can choose to simply move your elf from one shelf to another each morning or create an entire scene for your elf. The complexity of the Elf on the Shelf tradition is up to you. Also, no matter where your elf hides, make sure he follows these holiday safety rules!
If you're looking for props you can use with your Elf on the Shelf, browse what's new! We carry holiday home décor for all your elf and holiday accessory needs.

1. "I'm back!"
Once it's time to announce your elf's arrival for another season of holiday festivities, create a fun "welcome back" surprise. Place the elf inside of a gift box along with a card explaining his return or the elf's accompanying book if this is your elf's first visit. Wrap the package and place a gift tag on top that reads, "From the North Pole: OPEN ME!" When your children wake up, let them tear the wrapping from the present so they can find their elf inside. According to the Elf on the Shelf rules, only adults can touch the elf (or else he loses his magic) so a grown-up will need to move the elf from his box to a shelf. If you have a fireplace mantle, you can even have him waiting inside of a Christmas stocking.
2. Game night
Holidays are all about spending time with family and your elf loves to join in. Place the elf in your family's game room where he can lay out all the pieces to your family's favorite board game. When he is found the next morning, he will declare it family game night! If your family loves to play cards, your elf can be in the middle of a game when everyone wakes up.
3. Making a snow angel
Everyone loves playing in the snow but no one loves it more than a Christmas elf from the North Pole. When an elf is stuck indoors without any snow, however, he uses what he can! Leave a pile of sugar, flour or sprinkles on your kitchen counter or dining room table for your elf to play in. By morning, you might find him making a beautiful snow angel.
4. North Pole express mail
Christmas Eve is almost here and it's time to write your letters to Santa. Have your elf set out all your letter writing supplies like crayons, washable markets, colored paper, envelopes and stamps. The elf can even write his own holiday wish list! Since your elf already travels to the North Pole each night, he can personally deliver your letters to Santa.
5. Kisses booth
Have your elf set up a kisses booth where he can share his favorite kind of candy – chocolate! Your children will love getting a sweet treat from their elf and this idea is easy to do. Build a simple booth using popsicle sticks or cardboard, surround it with chocolate kisses and you're good to go.
6. Story time
Set your elf up with your kid's favorite book or a Christmastime classic. Surround him with dinosaurs, Barbie dolls, stuffed animals and other toys from your child's bedroom so he can share the story will all his friends. Children will be amazed to see how many of their toys came to life in the middle of the night!
7. Joining the adventure
Are you going on a Christmas vacation or are your kids anxious to play with their elf and take him along on all their adventures? Since children are not able to touch the elf without him losing his magic, letting him travel with you can be difficult. Solution: your elf can put himself inside an empty jar (with air holes in the lid, of course). Now you can take your elf with you for the day!

8. Team spirit
Does your family have a favorite sports team? Let your elf join in on the fun! If your team has a big game coming up, your elf can dress up in team colors, hold up a homemade banner or sign and watch the game. If you live in a house divided, where half the family roots for one team and half cheers for another, your elf can even play referee!
9. The gift of giving
Teach your family the true meaning of Christmas by encouraging them to perform acts of kindness this holiday season. A fun and easy way to do this is by letting your elf gather canned goods and placing a note explaining the importance of giving back. Once your family finds the collection, you can pack everything into boxes and deliver them to your local food pantry.
10. Scrub-a-dub-dub
Flying to the North Pole and back every night can be exhausting, so let your elf spend the day relaxing in a bath. Fill a bucket with cotton balls or fake snow, roll up a piece of fabric so your elf has a towel handy and give your elf some bath toys like a rubber duck. After a day of regaining his energy, he will be ready for more fun and mischief!
11. Winter wonderland
Wake up to a winter wonderland! Your elf will transform your home with paper chains and snowflakes strung through the hallways and decorated bedroom doors. Place your elf on the kitchen table with scraps of paper, markers and scissors. Your whole family can join in and make their own snowflakes. Then they can add them to your elf's creations or hang them from the Christmas tree
12. Marshmallow roasting
Roasting marshmallows is a perfect activity for a cold, wintery evening. Your elf will have no qualms helping himself to a few treats as well! At Homemakers, we carry a wide variety of Woodwick candles perfect for your elf to roast a yummy marshmallow over – they even crackles like a real fire!
13. Building a treehouse
Looking for a fun craft project for your kids? Help them give your elf a special place to sit by building him his very own DIY treehouse! Your elf can provide all the needed materials: popsicle sticks, glue and markers or paint. Once the treehouse is complete (and the glue/ paint has dried) your kids can hang it on the Christmas tree. The next morning, your elf can be found enjoying his new hiding spot!

14. Movie night and popcorn overload
A bucket of popcorn, cozy chairs, warm blankets and a classic holiday film. Does it get any better than that? Let your elf gather everything you need and a selection of classic Christmas movies. Then your family can spend the evening relaxing together. After everyone goes to bed, your elf can keep the movie marathon going. The next morning, you can find him fast asleep in a pile of leftover popcorn.
15. Christmas prep
As Christmas gets closer, your elf is itching to help out! While everyone is sleeping, let your elf make a centerpiece, wrap some Christmas gifts or set up the Christmas tree and leave all the decorations out for your family to hang up. His effort will help get everyone in the Christmas spirit, as well as get some of those pesky chores out of the way!
16. Family Picture Mischief
Scout elves are merry and silly by nature. They love to have a bit of fun and play tricks on their families. Don't be surprised if you wake up to find your mischievous elf holding a dry-erase marker and all your family pictures with mustaches drawn on them. Easy to do and clean up after, this little trick is guaranteed to make your family members and guests laugh!
17. Card-making station
Another Elf on the Shelf idea that is both simple and fun is to create a Christmas card creation station. Your elf will have everything ready: stencils, markers, colored paper and holiday-themed coloring pages. Your kids can spend the morning creating Christmas cards for their family members, neighbors, classmates and teachers. Not only does it keep your kids busy and inspire creativity but it also helps spread Christmas cheer to everyone you know!

18. Cookie baking
With Christmas just around the corner, it's time to bake cookies for Santa Claus to eat during his visit to your home. Since your elf loves to help out, he can gather all your baking supplies. While he is waiting for everyone to wake up and start baking, he can even make his own batch of cookies!
19. Mini Christmas tree
Sometimes your kids can get a little sad when it's time to say goodbye. Make your elf's departure easier by letting your elf decorate his own miniature Christmas tree on his last day in your home. Your elf might still be in the middle of decorating, with ornaments, garland and wrapping paper everywhere. Then, the next morning, the elf will be gone and the tree will be beautifully finished. Under the tree, your elf can leave little presents as a way to say goodbye and thanks for the laughs.
---
Share your Elf on the Shelf Ideas!
What do you like to do with your Elf on the Shelf? If you loved these ideas, share this post using the icons below!