February 01, 2021
How to Create a Romantic Valentine's Dinner at Home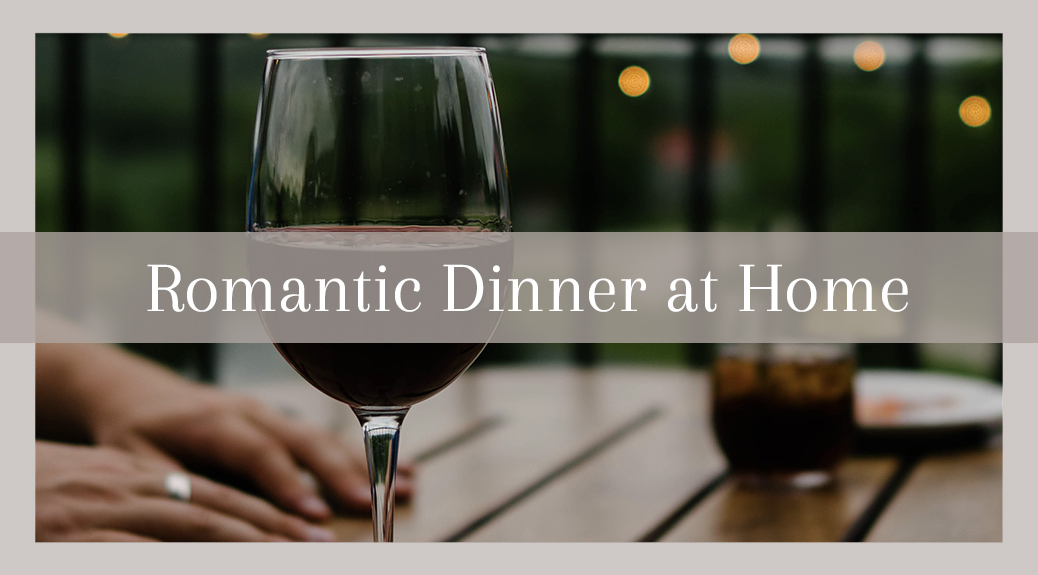 Trying to replicate a romantic Valentine's dinner at home? Valentine's is a hot topic during February. It's full of gourmet dinners, expensive gifts, and spending time with the people you love. But what if you want to spend Valentine's Day at home? You can exchange gifts and enjoy company in the comfort of your own home, but reinventing those five-star romantic dinners can be a challenge. Whether you're spending Valentine's Day with family, friends, or a partner, here are some of the best and easiest Valentine's dinner ideas that you can try at home!
Romantic Dinner Set Up
First in the challenge of recreating a Valentine's Day dinner at home is the set-up. For a romantic aesthetic, drape a white tablecloth over the entirety of your table. This promotes a clean look and also helps catch crumbs or spills! Add a colored placemat and napkin for each dinnerware placement for a layered effect. Depending on how fancy you want your dinner set-up to be, fold your napkin in a design of your choice (swan, lotus, rosebud, half-fold, etc). Finally, add the dinnerware that correlates with your Valentine's Day meals, such as plates, bowls, cutlery, glasses, etc. Throw in some candles as your table centerpiece, a touch of soft music, and VOILA! You just created a romantic dinner set-up at-home!
Easy Valentine's Dinner Ideas
It may seem impossible to replicate your favorite restaurant dishes at home! Not only does it seem overly complicated, but also super expensive. Here are some Valentine's dinner ideas that will throw last year's Valentine's out the window!
Appetizers
Roasted Brussels Sprouts with Buttered Garlic Sauce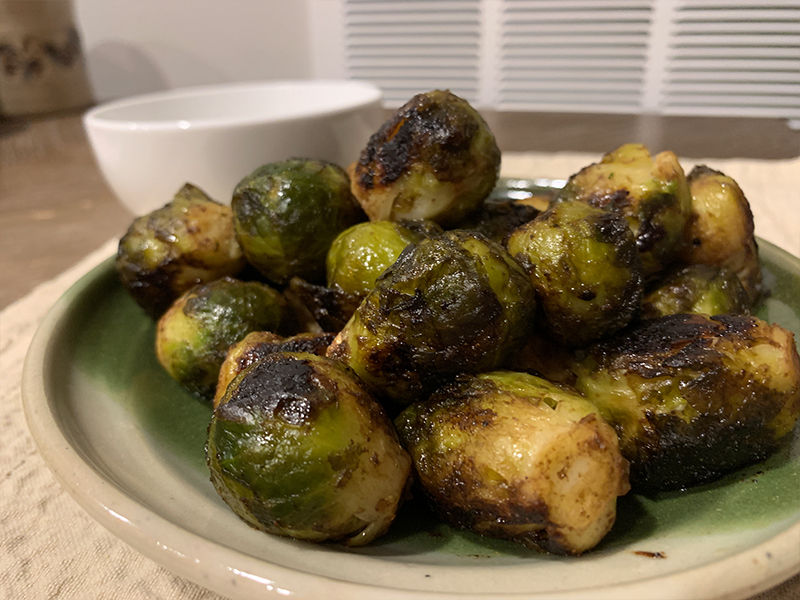 If you haven't yet developed a taste for brussels sprouts, you're definitely missing out. Yes, they have a reputation of being disgusting, BUT that's because you're not seasoning them right! First, slice your brussels sprouts into fourths and lightly coat them with oil, honey, pepper, and garlic salt. Put your sprouts on a baking tray and place in a 400°F oven for 30 minutes (lightly tossing them at the 15 minute mark). While your sprouts are roasting, go ahead and combine olive oil, butter, and chopped garlic and mix until creamy. Once crispy, serve your brussels sprouts and creamy garlic sauce together for the ultimate combo.
INGREDIENTS:
Brussels Sprouts
2lbs of brussels sprouts
3 tbsp of olive oil
1 tbsp honey
½ tsps pepper
1 tsps garlic salt
Buttered Garlic Sauce
1 tbsp olive oil
4 tsps of butter
Dash of chopped garlic (work your way up to desired garlic taste)
Bruschetta with Goat's Cheese and Roasted Pepper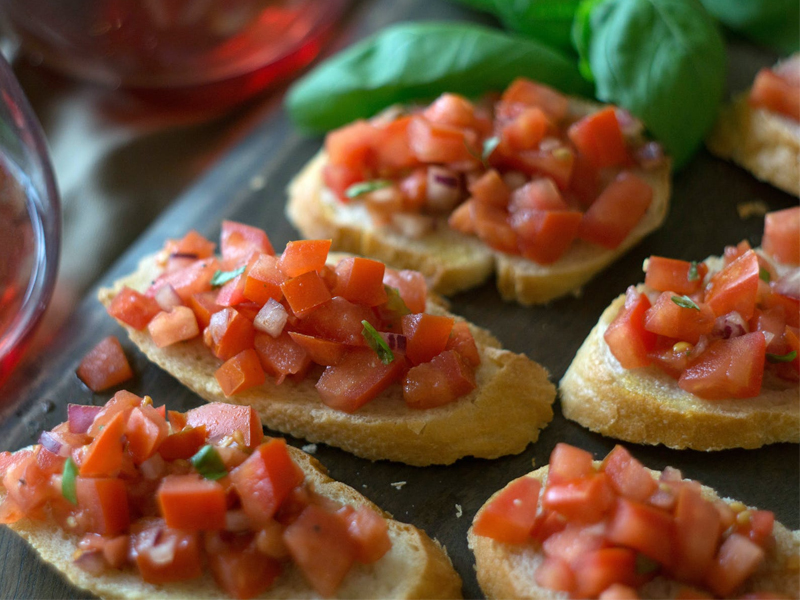 Take the Italian route for your opening meal by indulging in gourmet bruschetta with roasted peppers and goat's cheese. First, dice the red pepper into small pieces and place on a baking tray with a drizzle of oil. Roast in 400°F oven for 10 minutes, or until the edges are crispy. In a bowl, combine roasted red peppers with balsamic vinegar, honey, olive oil, canned tomatoes, garlic, parsley, salt, and pepper. Place in the fridge for 20 minutes to marinate. Cut your baguette into slices and lightly coat with olive oil. Place in 400°F oven for about five minutes or until golden. Spread on goat's cheese and the already marinated dressing for a delicious appetizer meal! For a simple route, simply pop to your local grocery store and buy some already made bruschetta dressing.
INGREDIENTS:
1 baguette (or bread of choice)
2 tbsp olive oil
Dash of salt
Dash of pepper
1 red pepper
2 tbsp balsamic vinegar
1 tbsp honey
1 can of canned tomatoes
1 tsps garlic salt
½ tsps parsley
Goat's cheese (or cheese of choice)
Main Dish
Honey-Mustard Chicken with Vegetables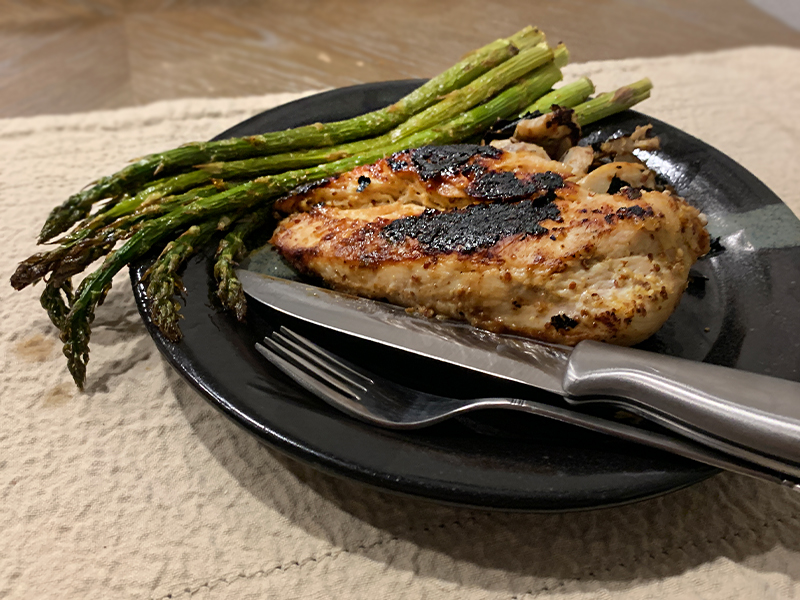 The main dish is the statement of your entire Valentine's dinner, and this honey mustard chicken dish is sure to leave you and your loved ones satisfied. First, prepare the honey mustard marinade by combining honey, mustard, and mayo. Place the mixture and chicken breast together in a Ziplock bag or container and place in the fridge for an hour or overnight for the best flavor. In a skillet, combine onions, mushrooms, asparagus, milk, and garlic salt until the milk has evaporated and vegetables are slightly crispy. Cover and set aside vegetables, place the marinated chicken into the same skillet, and cook for 10-15 minutes until cooked through, occasionally flipping to each side. Add a squeeze of lemon on the chicken and serve with vegetables for a sweet Valentine's Day dinner option.
INGREDIENTS
2 chicken breasts
5 ounces mushrooms
5 ounces of asparagus
Dash of garlic salt
Half an onion
½ cup of milk
Dash of lemon
Sauce
½ cup mustard
½ cup of honey
1/3 light mayo
Creamy Pasta with Roasted Tomato and Cashew Sauce (Vegan Optional!)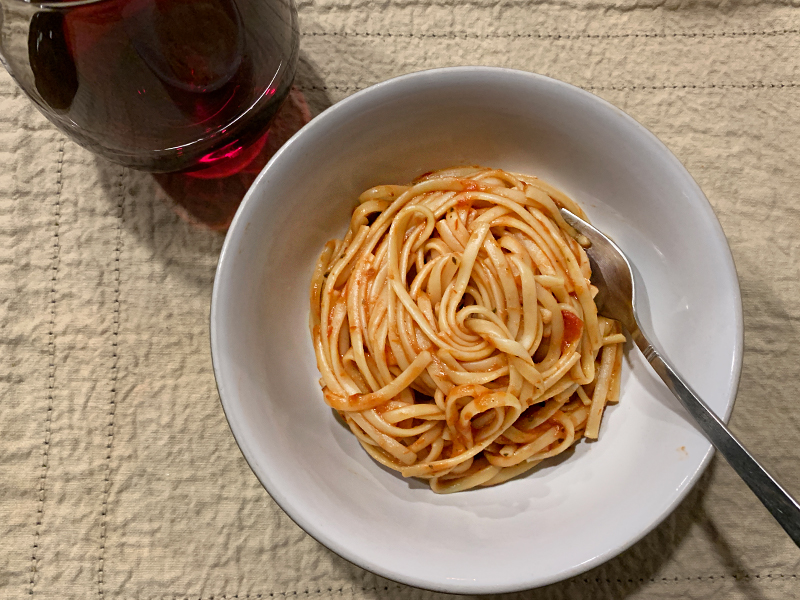 Simple, easy, and fast, this creamy pasta dish is sure to impress! First, place tomatoes in a baking dish with olive oil, salt, and pepper, and place in 425°F oven for 20 minutes. Take tomatoes out of the oven and blend with cashews, garlic salt, and hot water until creamy. Boil your pasta in salted water until soft and drain. Combine pasta with your creamy sauce and serve hot! Add a dash of thyme on top for the perfect presentation!
INGREDIENTS
1 box of fresh tomatoes
1 tsps garlic salt
2 tbsp olive oil
1 cup of cashews
1 lbs pasta
1/2 tsps pepper
1 tsps salt (for pasta water)
fresh thyme for topping (optional)
Dessert
Oversized Single-Serve Brownie with Vanilla Ice Cream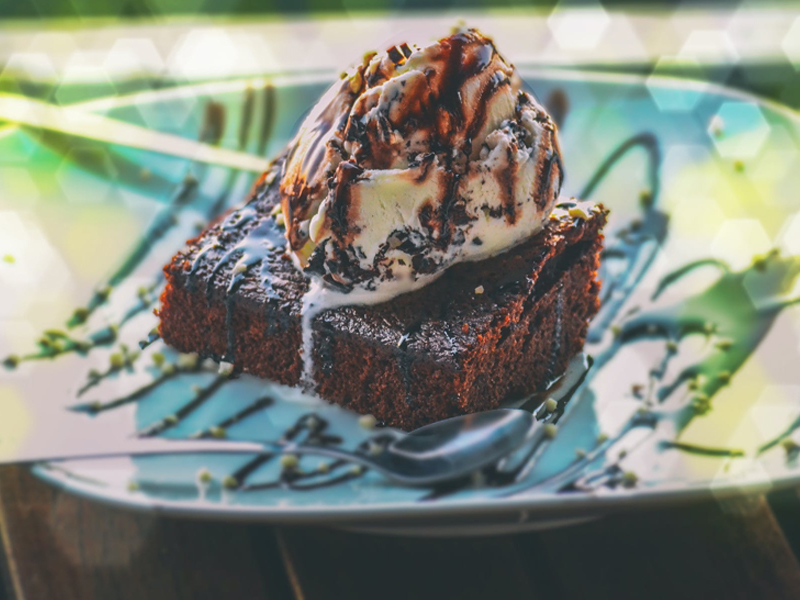 Who doesn't love chocolate on Valentine's Day? Try this oversized single-serve brownie that's great for sharing! In a bowl, combine sugar, egg, milk, oil, and vanilla extract until creamy. Then add your dry ingredients: flour, baking powder, salt, and cocoa powder. Mix in your chocolate chips (optional) and place in a small baking dish. Place in 425°F oven for 15-20 minutes. Remember, you don't want your brownie completely baked through, since the best part is the gooey, creamy middle. Top your warm brownie with a scoop of vanilla ice cream and indulge!
INGREDIENT
1 egg
1 tbsp milk
3 tsps vegtable oil
1/2 tspsanilla extract
1 tbsps flour
1/2 tsps alt
1/4 tsps aking powder
1 tbsp sugar
2 tsps ocoa powder
Handful of chocolate chips (optional)
Vanilla ice cream for topping (optional)
Chocolate Dipped Strawberries
Just because it's cliché doesn't mean it's not good! This sweet dessert is everything but complicated, plus requires little preparation. Place your chocolate chips in the microwave for 30 second increments, constantly stirring until completely melted. Dip your strawberries or choice of fruit in melted chocolate and place on parchment paper of baking tray or plate. Once you've dipped all your strawberries, place them in the fridge to set (should take an hour). Take them out, pour yourself a glass of white wine or champagne, and enjoy!
INGREDIENTS
1 bag of milk chocolate chips (or choice of chocolate)
Bag of fresh strawberries (or choice of fruit)
---
If you're wanting to say home this Valentine's Day but worry about not having the cooking skills to recreate something fancy, worry no longer! These easy at-home Valentine's dinner ideas are perfect for making your romantic night go down in history!