September 21, 2020
Clever Tips on How to Use a Bench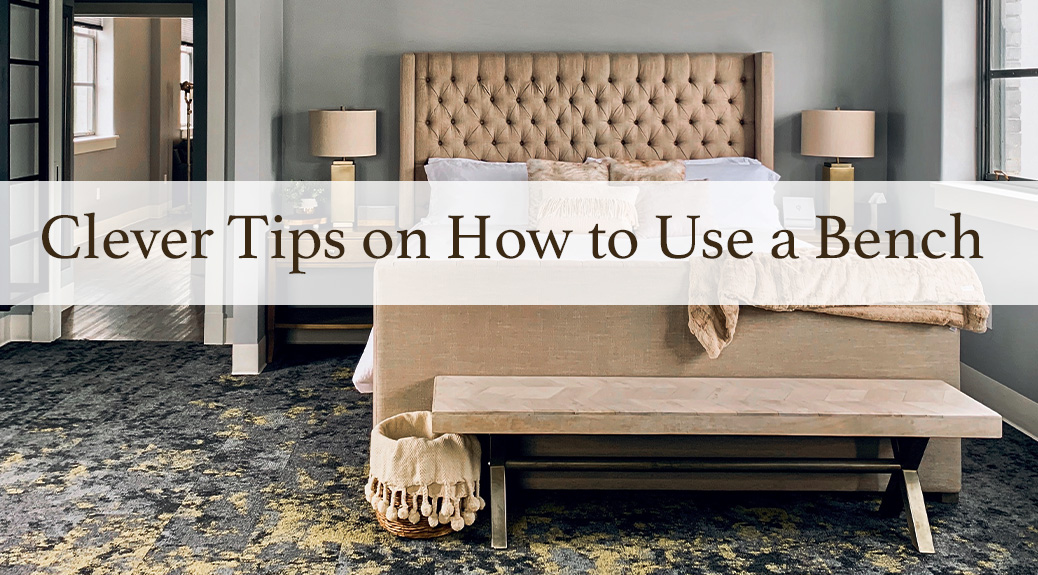 There are plenty of ways to use a bench to elevate your space. Their versatile design makes them extremely practical and can enhance your overall style! Need a place to sit to put on shoes? Add a bench to your hallway. What about a unique seating option for your dining table? Try an upholstered bench as a makeshift side chair. With every room comes more possibilities! Just like the icing on a cake, a bench is a perfect final touch to making your house a home. Here are some bench décor ideas to help you elevate your everyday.
Foot of Bed
Over the last few years, having a bedroom bench has been all the rage. They add style to your bedroom without taking up too much floor space or making a dent in your budget. Consider an upholstered bench like our Coaster Brown Storage Bed Bench as a comfy place to sit while getting dressed, or as a footstool for your pup! Warning, once you add a bench to the foot of your bed, you'll never go back.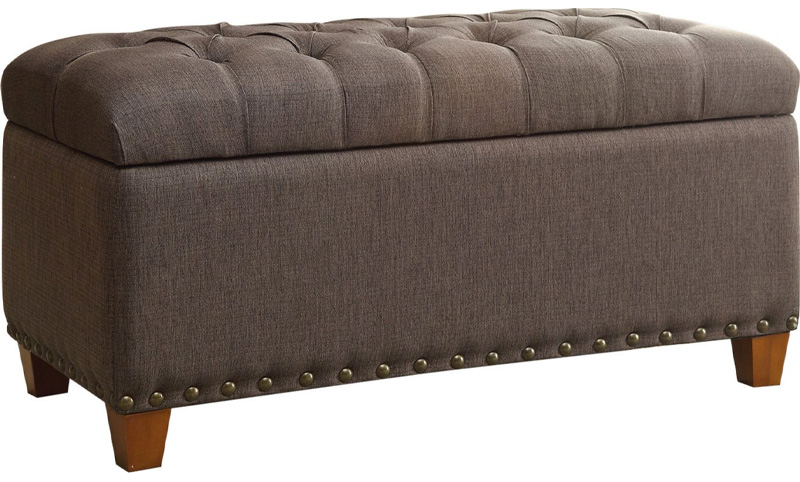 Entryway Seating
Have an extra bench but your bedroom or living space is already super overcrowded with furniture? Why not add it to your hallway! It'll make for a great place to put on shoes, dump school bags, or showcase décor. Add a nifty pillow to match your interior or represent the seasons with some simple decorations. Bonus points if it has shelves or a hidden storage compartment to store shoes, hats, and gloves!
---
Take full advantage of a bench in your home with these clever bench decor ideas. With their versatile design, slender appeal, and stylish looks, a bench is the perfect finishing touch to your interior and exterior.
Make-Shift Coffee Table
As a small space solution, a bench could be the perfect alternative to living rooms with little space. Visually, a bench is skinnier than a generic coffee table, which could open up some needed floor space if you live in a smaller home or apartment. Our Intercon District Bench closely resembles a coffee table with its solid wood surface but is instead slender in comparison. Want something a little more versatile?
Under the Window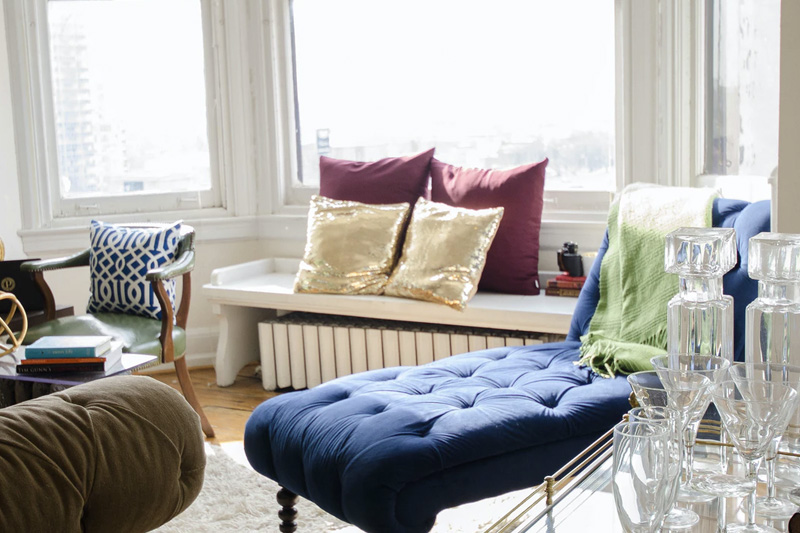 A window bench can add great value to your interior, as its generic backless design won't block incoming sunlight as a sofa would. There are an infinite amount of ways you can utilize a bench under a window. Choose a bench with a solid surface and use it as a place to put your plants or push it right up below your window to create the ultimate reading nook. Some other great bench décor ideas are to add oversized pillows and an oh-so-soft blanket for a cozier feel.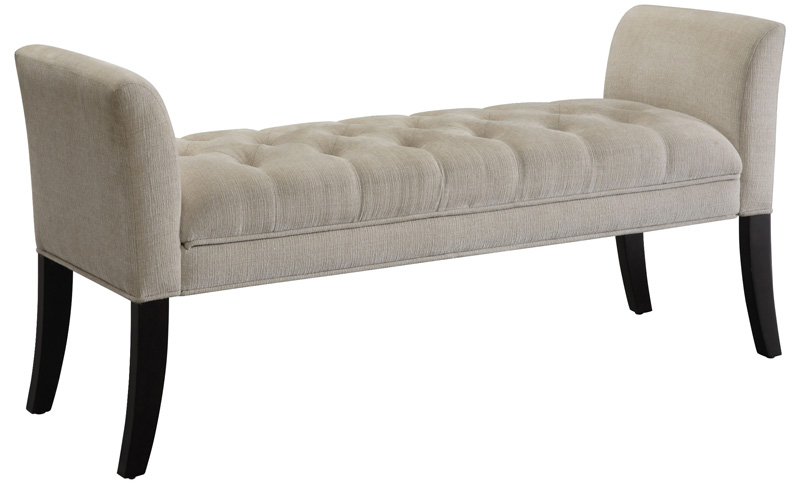 Coast To Coast Ecru Microfiber Bench
Dining Bench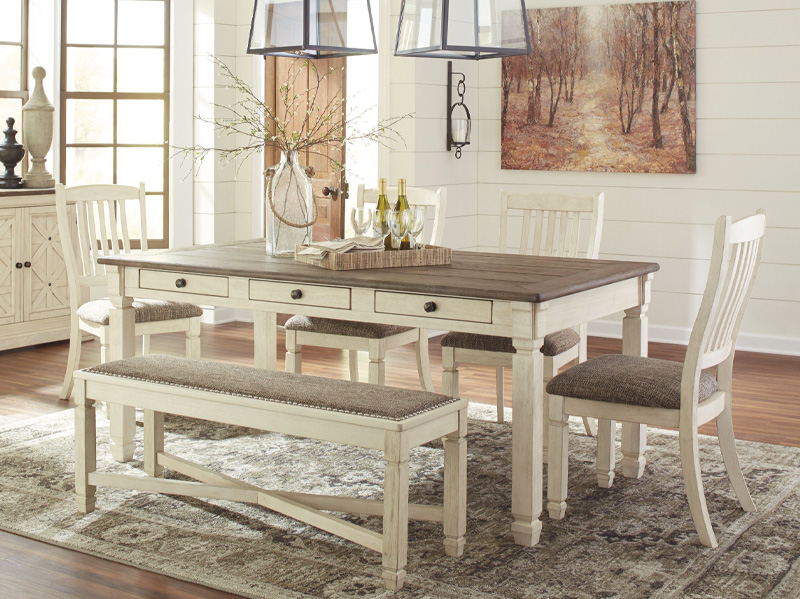 For a more casual dining set up, think about adding a bench to your dining table. It mixes up the flow of your space with various heights and makes for great extra seating. Where there were once two side chairs is now a bench that can fit at least three. Here at Homemakers, we carry a wide range of dining sets that include benches!
Closet of Your Dreams
Ever dreamed about owning an oversized closet to store all your luxury item? We have! Just think about all that space! If you have a walk-in closet, consider adding a bench. It can offer prime style and function for when you're trying to figure out what to wear and can quickly turn your average storage space into a palace approved closet!
Outdoor Bench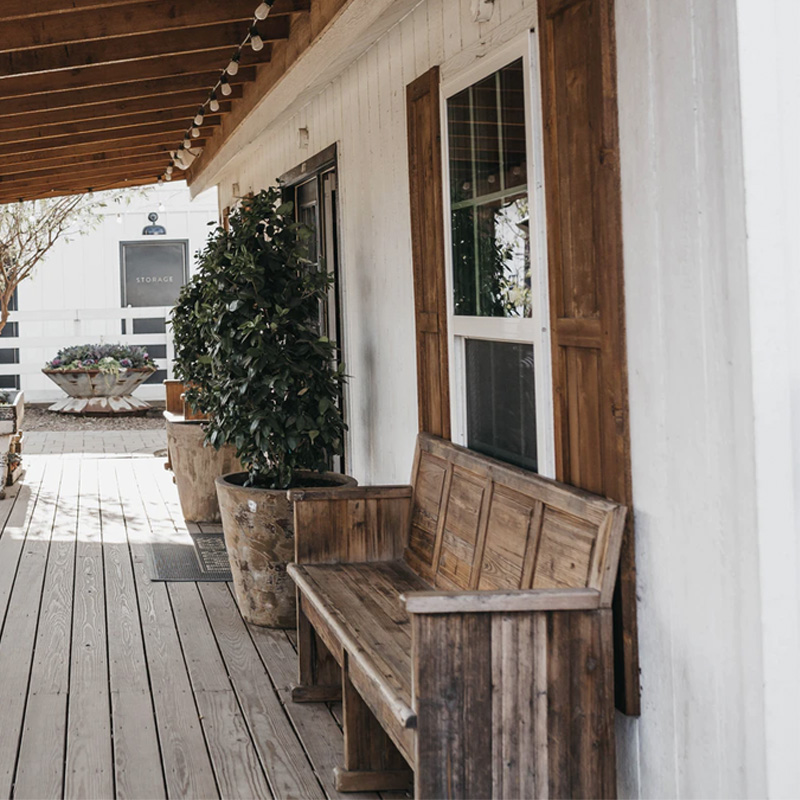 If you're lacking on outdoor decor, adding a bench can solve many of your issues. Go the extra mile by decorating your outside area with a bench! Some bench décor ideas like adding pillows or seasonal decorations can easily lighten up your exterior. An outdoor bench can also offer extra seating for crisp fall mornings, add a pop of color to your outside space, and serve as a place to put your candy bowl on Halloween!