June 17, 2015
Cozy & Compact: 10 Small Basement Ideas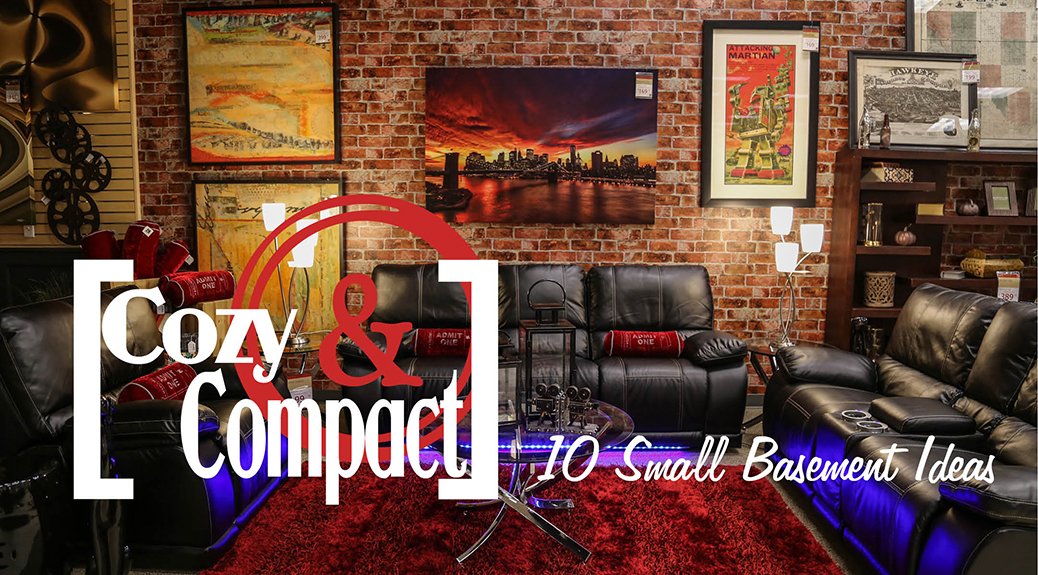 Updated 12/15/16
The secret to designing a comfortable, yet compact, home entertainment area is to create the illusion of space. In small basements especially, it's easy to make poor design choices that result in a cramped, dimly lit look. We're here to prevent that. Keep reading to discover ten useful small basement ideas.
10 Helpful Small Basement Ideas
1. Cut clutter with enclosed storage: Keep DVDs and electronic appliances hidden in enclosed spaces with home entertainment storage pieces. You'll eliminate clutter while also keeping valuable electronics safe behind closed doors. Most units also come with cord management openings to keep all your cords organized and out of sight.
2. Lighting, lighting, lighting: Basements are notorious for offering little to no natural light, so the lighting situation is completely in your hands. Place table and wall lamps against your walls to bounce light and maximize the brightness in your small basement.
Another great lighting solution is Fireplace TV stands. They create a diffused glow, plus you'll enjoy cozy warmth in a room that often gets chilly being located on the bottom level.
3. Use glass surfaces: Any reflective or transparent surface instantly adds the illusion of openness. Instead of appearing dark and bulky, you get a light, airy look and feel. A clear glass coffee table lets light shine through, preventing a dark, stuffy look in your basement. Glass tables have transparent lines that blend into their surroundings, making any space appear more open.
4. Add seating with storage: Whether it's a storage ottoman or bench, these versatile pieces are easy space-savers. You can store blankets, magazines or electronic accessories in their conveniently hidden storage area without loosing seating space. We also have plenty of living room furniture that features built-in storage like consoles, cup holders, drop-down tables and pullout drawers.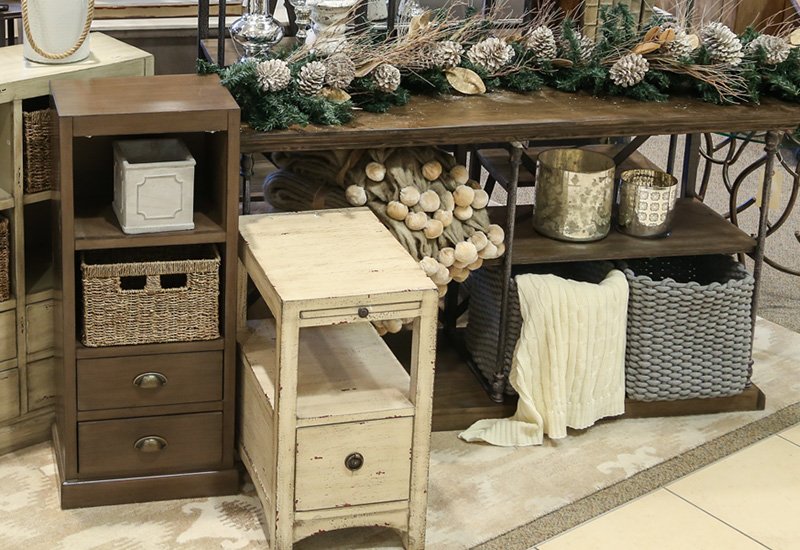 5. Take advantage of under-stair storage: One of the most helpful small basement ideas is to utilize every inch of space. That includes the often forgotten space under your stairway. Take advantage of that little nook with storage cabinets and chests. They're the perfect addition to stow throw blankets, DVDs or your kids' toys out-of-sight.
6. Design a smart layout: Just because you have a small basement doesn't mean you can't go big on comfort. Choose a furniture layout that complements your goals for your space. If you're looking to create a stunning home theater, opt for reclining furniture that faces your entertainment center. If you want a conversational space, place a storage coffee table and cozy area rug in the middle of your seating. Or, maybe you want to display personal accents in your basement. In this case, consider pulling your couch away from the wall and using a sofa table to display photos, trophies or other personal treasures. Whatever your plan for your space, make sure your layout complements those goals.
7. Pick the perfect area rug: Area rugs can tie together a room. When it comes to choosing the perfect rug, you'll want one that's approximately the same length and width of the furniture in your basement. Leave an equal amount of space between the rug and your furniture, or place just the front legs of your furniture on the rug. In a small basement especially, small repeats in patterns make space appear larger. Solid colors are always a safe choice, too.
8. Fall in love with wall-mounted pieces: An easy way to open up floor space is to take advantage of all your small basement's wall space. A wall-mounted TV stand is a great, space-saving addition. Or, use a versatile wall speaker shelf to enjoy high-quality, wireless streaming that provides additional storage space with its shelf design.
9. Hang mirrors: As long as you don't place these surfaces too close to the TV and create distracting reflections, mirrors will open up your basement and maximize your lighting.
10. Opt for large wall hangings: Another great way to use empty wall space is to hang oversized wall art. While many pieces of small wall art can quickly make a space look cluttered, one large wall hanging creates an instant focal point that anchors the room. This is especially effective in small living spaces. Take your time in selecting a few choice wall hangings that make a big statement.
Ideas + Advice
November 16, 2023
At its core, Organic Modern interior design celebrates the marriage between the contemporary and the organic. It integrates natural elements such as wood, stone, and plant life into modern spaces, creating an environment that feels fresh, natural, and inviting. Characterized by soft curves, raw natural materials and open spaces.
Read more

about "Organic Modern Style for Every Budget"