May 24, 2021
Creating a Budget Patio Space with Interior Designer Hilary Prall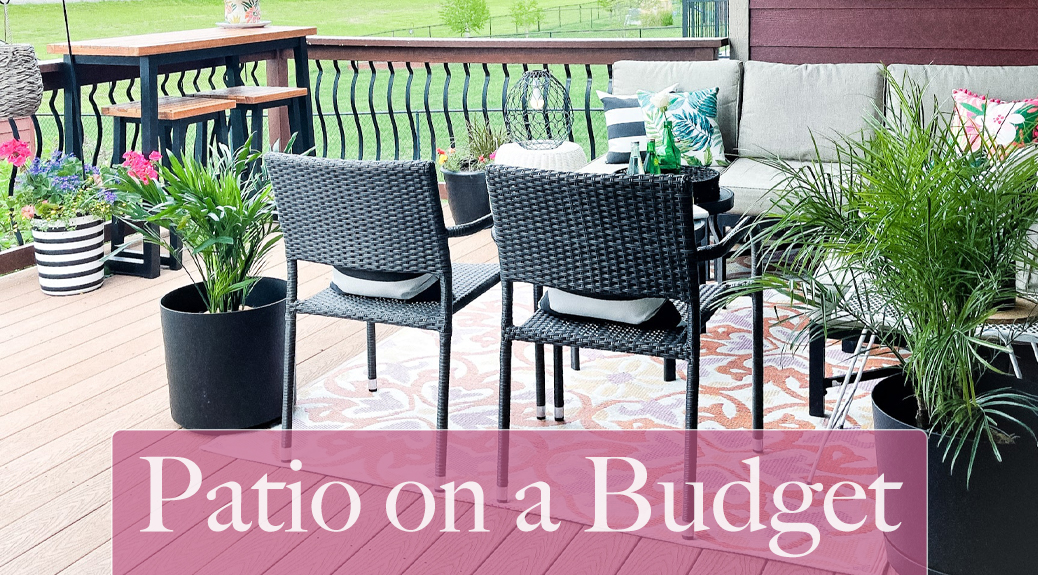 Hilary Prall is the owner and founder of H. Prall & Co., an interior design group based in the Des Moines area. We invited her to shop Homemakers and write about her experiencing creating a patio space on a budget.
Get more inspiration from Hilary!
We worked a whole day recently, getting our deck and patio all put together…and almost instantly, it started raining…and has continued to rain for nearly a week straight. What a drag! All we have wanted to do is enjoy our outdoor space, but it just has not worked out yet. Luckily, though, as soon as this rain passes, our deck and patio are going to be ready to relax on and, better yet, host friends + family!
When we moved to this house two and half years ago, we came from a home that had no patio, deck, or porch. This house, however, has all three! It is so exciting to have all this outdoor space to enjoy, but it has also been overwhelming to try and fill with furniture and accessories—without breaking the bank.
You know that I love to use secondhand when I can…and we have several pieces on our deck and patio that have come from the thrift store, friends, and even the curb. Since only part of our outdoor space is covered, I wanted to make sure that any other furniture or accessories we got could stand up to the elements—that is why I am so excited to have found so many perfect additions at Homemakers Furniture!
When I visited Homemakers, the only piece of furniture that I knew for sure I wanted to get were Adirondack chairs. That is all I have envisioned for our patio since we moved in. I have looked at several different styles, brands, and price points before (they can get expensive), but just had not ever bought any.
I was so happy to see that there were a couple different price points in the store, something for everyone. I went with the more modern-lined Ashley Visola Adirondack Chair (reg. $179). It is made to handle the elements, we will have them covered during the winter months, and yet still looks sleek and beautiful!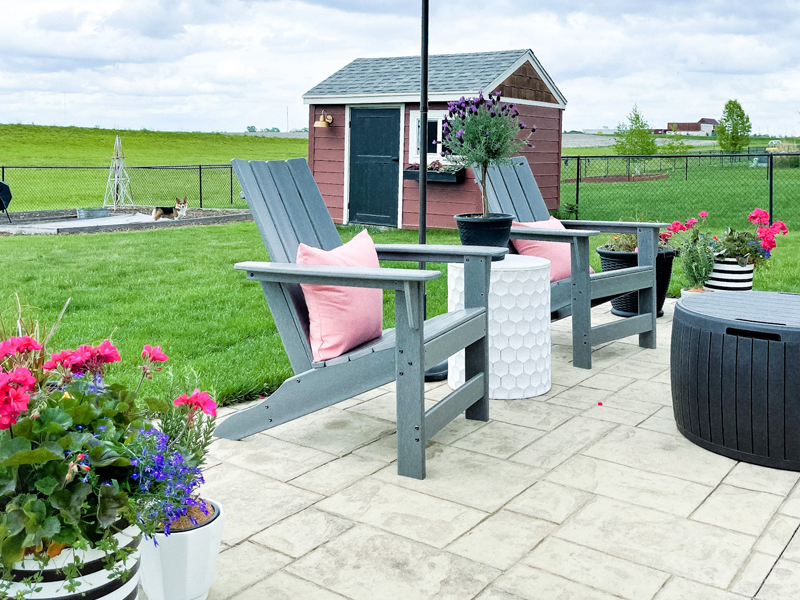 The chairs we got remind me a lot of this chair (reg. $399)…for less than half the price! I love that, at this price point, we can afford to add even more chairs to our firepit area if we want to—the more the merrier!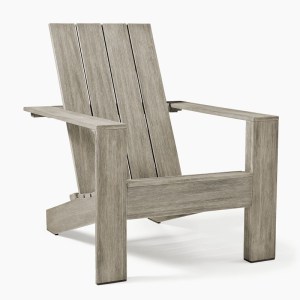 Source: West Elm
I also wanted a couple of side tables or garden stools for the patio to set snacks and drinks on and, also to display a plant or two on. I love the look of this piece, but I cannot imagine spending $789 on a garden stool!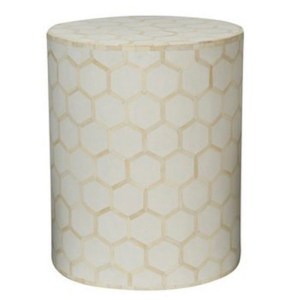 Source: Hibashi Furnitures
Homemakers had several styles of small tables to choose from, as I walked around the showroom, but then I found the Ashley White Stool (reg. $79). I could not believe it! It's almost exactly like the designer piece, for a fraction of the price! I love the slight distressing (does not matter if a little more happens from mother nature) and the hex/honeycomb design is so on-trend.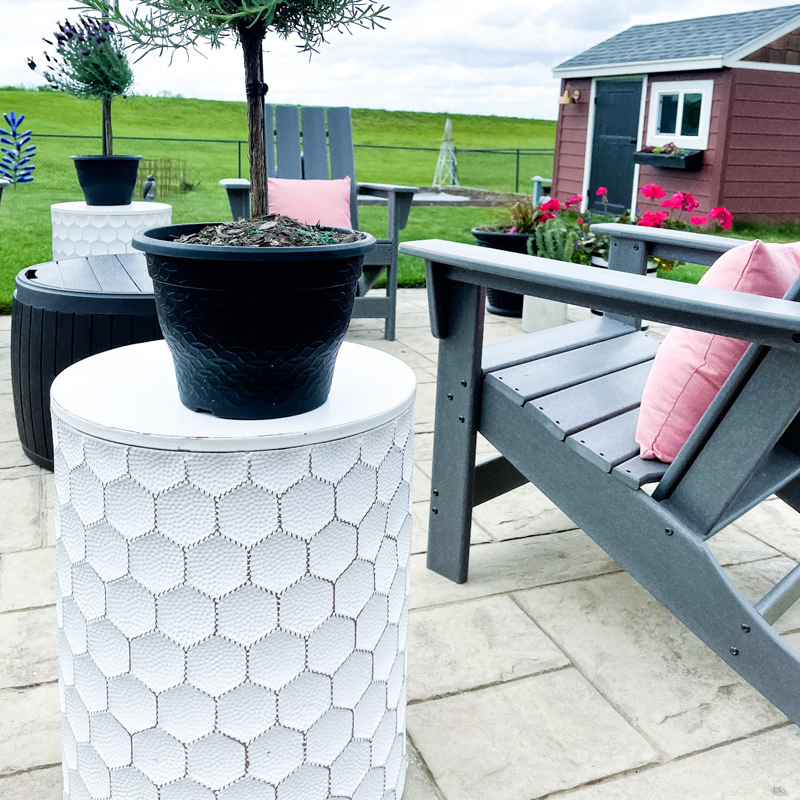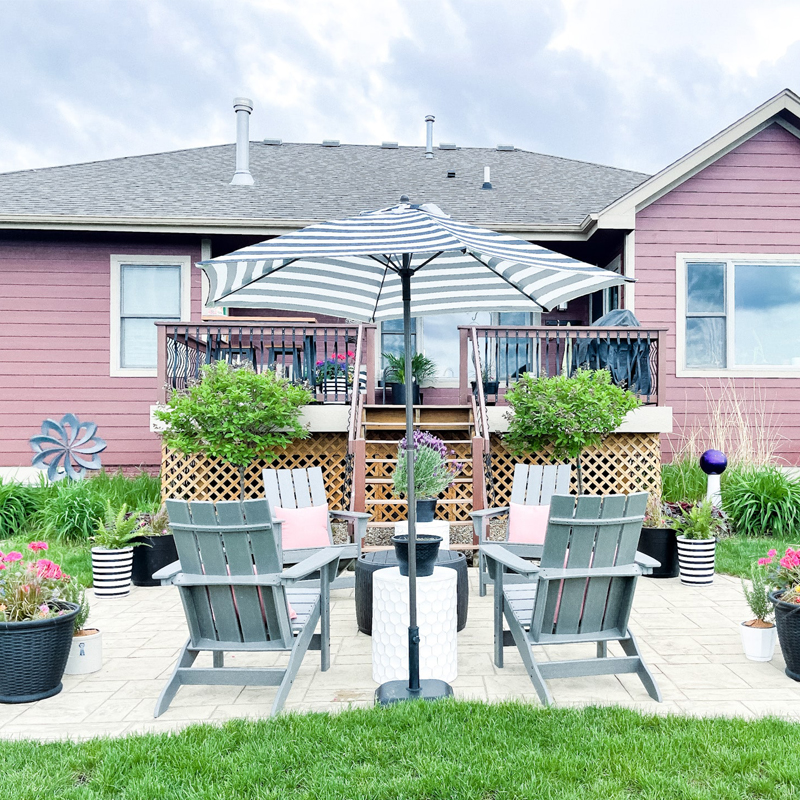 While I did a few loops through the patio showroom, I noticed this great bar style table. The Ashley Town Wood 3-Piece Counter Set is almost exactly what I had been envisioning having someone make for our deck! We love to eat outside, but do not want to take up a lot of room on our deck with a full table and chairs, so this set is perfect! I love the wood top, but the touch of industrial look that is added with the metal legs. I am so happy I found this set…even though I was not looking for it when I walked into Homemakers!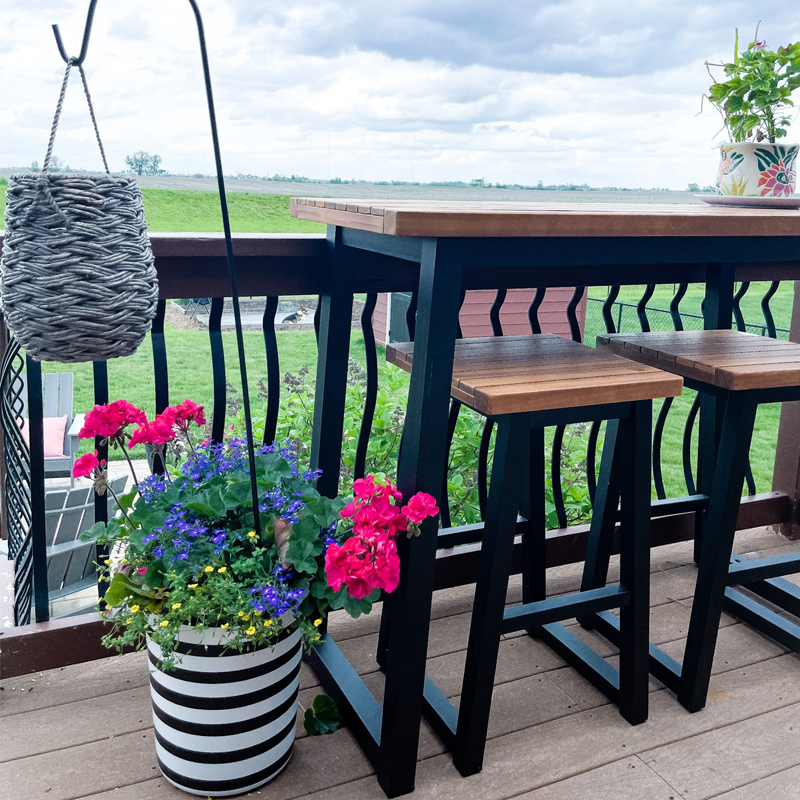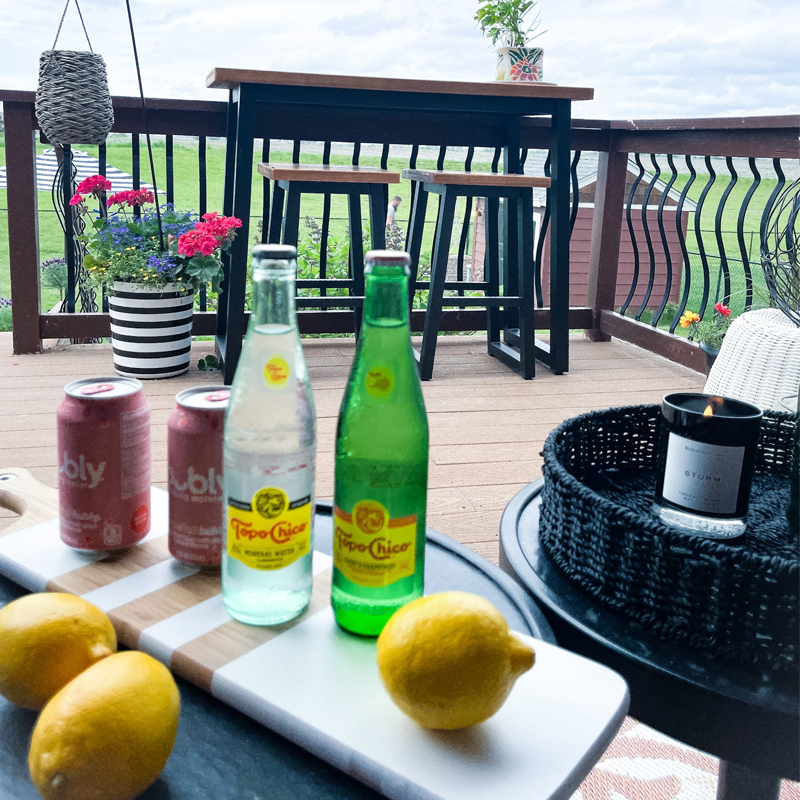 Of course, I had to do some looking to see what a good deal I got on the table + stools. I found this set (reg. $1560) that was similar, although it comes with side benches instead of stools, adding a bit more seating. I could add two more stools to my set or buy 4 new ones, when I want to refresh, and still come in way under budget compared to the higher-priced set! Good thing Homemakers has plenty of stools to choose from too!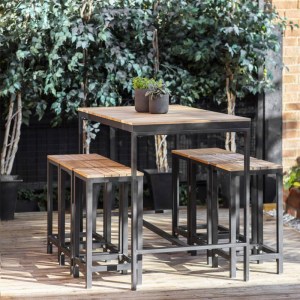 Source: Not On the High Street
I am so thrilled with how our deck and patio space is turning out! I feel like it is so much more finished now, although, spaces in (and out of) our home are always changing and evolving! I think that is what I appreciate the most about the budget-friendly pieces I found at Homemakers. I still have money left in my budget to add more plants, landscaping features, whatever else I dream up during patio season! One of my favorite things to do this time of year is to enjoy the outdoor space and see how it functions, adding and changing as the season passes, making it even more what I want it to be.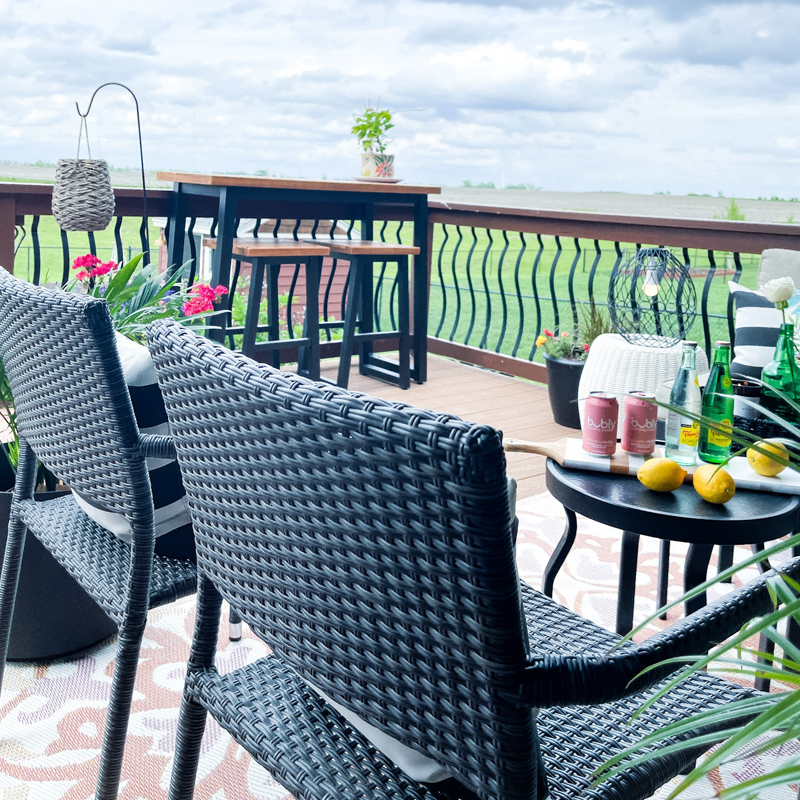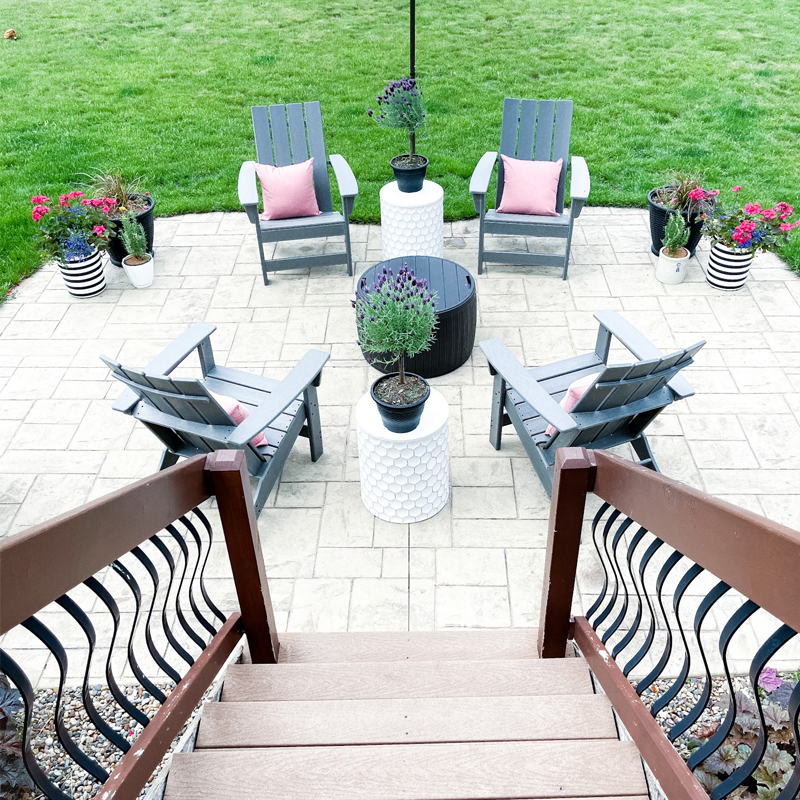 Creating the space, you want, on a budget, is totally doable. The best part? It does not have to look like you did it on a budget. The right pieces from Homemakers + fun accents will make it look like a million bucks, even if we both know you did not spend that. Our little secret!
I hope this gets you excited to see the potential in your space! It is easy to think that we cannot fit high-end looks into our budget lifestyle, but it really can be done!
Ideas + Advice
November 16, 2023
At its core, Organic Modern interior design celebrates the marriage between the contemporary and the organic. It integrates natural elements such as wood, stone, and plant life into modern spaces, creating an environment that feels fresh, natural, and inviting. Characterized by soft curves, raw natural materials and open spaces.
Read more

about "Organic Modern Style for Every Budget"