February 19, 2019
How to Choose the Best Coffee Table for Your Sectional
Furniture arrangement and styling can make all the difference in the look and flow of a room. We've talked about laying out a room before and how important it is. Now, we will show you how to choose the best coffee table for your sectional.
Seems simple right? It should be! Your coffee table needs to be proportional to the size of your sectional (or sofa), account for traffic and suit any other needs- storage, entertainment, movable, etc.
Let's get into it!
Classic Configurations
Pictured above: Ashley Augeron Coffee Table & 2 End Tables | Ashley Kirwin Nuvella Sectional
One of the most popular sectional configurations is the L-shaped sectional- a sofa or loveseat paired with a chaise. It's classic, ensures a great spot for movie-watching and is easy to style.
Most L-shaped sectionals are best paired with a classic square or rectangular coffee table. Bonus? We offer plenty of table collections, so you can pick up matching end tables as well! Shape is easy when it comes to coffee tables that go with L-shaped sectionals. But what about height and length?
Coffee Table Tips:
The height of your coffee table should be about 1-2 inches below your sofa. Too low and you're doing crunches to reach anything, too high and you'll have to get up out of your seat!
Your coffee table should not extend beyond your sofa. This is a no-brainer! The edge of your table should align with the end of the sofa.
Allow for 1-2 inches of space around the table. There are few things more painful than running into your coffee table. This rule of thumb allows for easy flow of traffic.
Shop coffee tables:
Small Spaces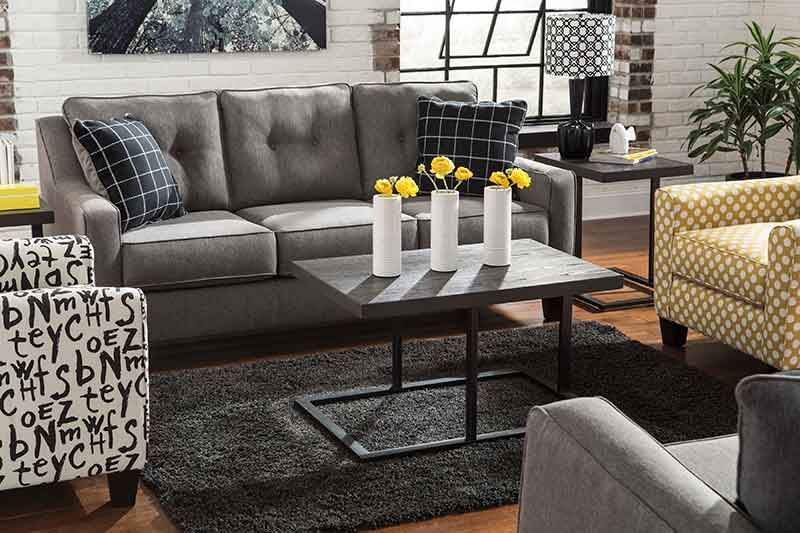 Pictured above: Ashley Airdon Coffee Table & 2 End Tables | Ashley Brindon Sofa
If your sectional isn't big or you've improvised one with a small sofa and some accent chairs, never fear! There are plenty of scaled-down coffee tables that are still larger than an end table. For smaller spaces, it's important that furniture is multifunctional We recommend looking into a storage coffee table that can serve has a holding space for remotes, blankets, pillows, etc. A table with casters makes it easy to rearrange your space when you're entertaining or just trying to Feng shui the place!
A storage coffee table makes the best use of your room, especially for small space living.
Shop small coffee tables:
Round Coffee Tables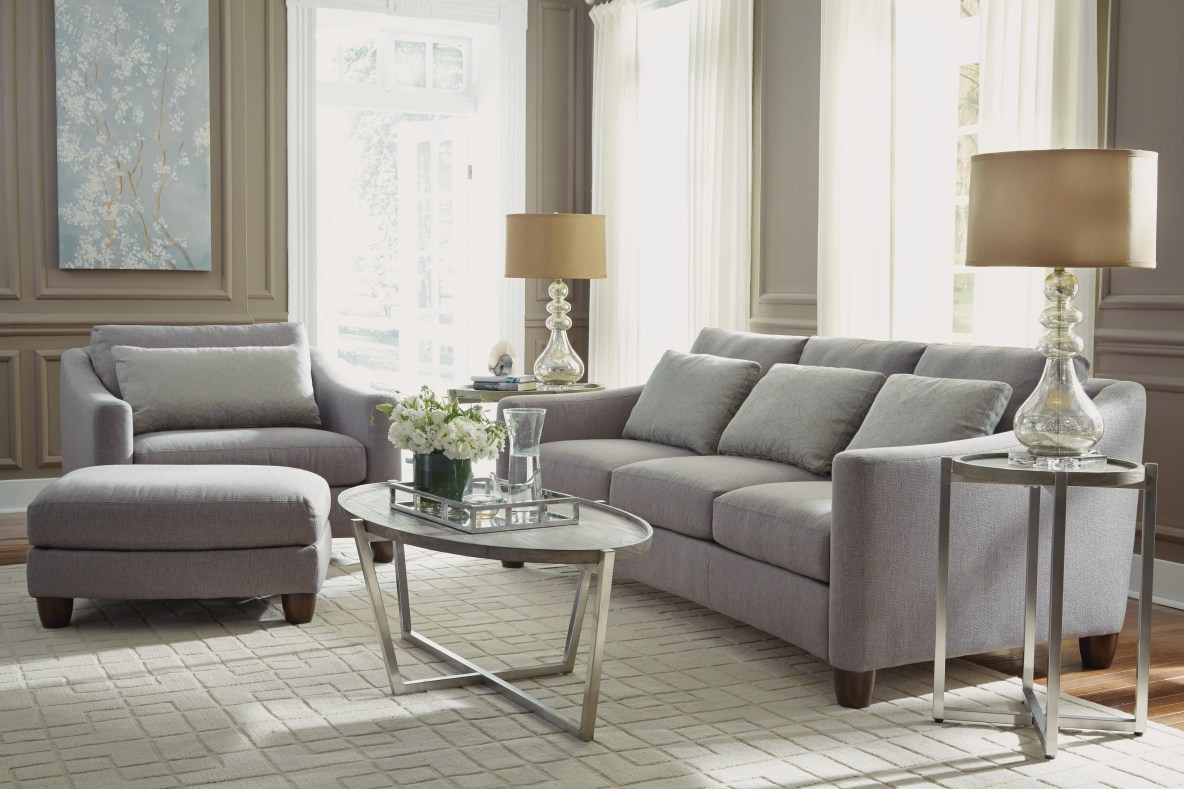 Pictured above: Flexsteel Platform Coffee Table
What's the benefit to choosing a round coffee table over a rectangular or square one? The first is aesthetic. Round or oval tables break up all the straight lines you have in a living room when all upholstered furniture and tables are squared off. Curving lines add a new flow and dimension to the space.
Round tables also help facilitate traffic if your living room is the main road through your home. Think of round tables like a roundabout in the road! They can also open the floor up if your living room isn't large.
Round tables are just as versatile (if not more so!) as rectangular tables. They pair well with U-shaped sectionals, L-shaped sectionals and custom configurations of sofas and accent chairs.
Shop round coffee tables:
Unique Layouts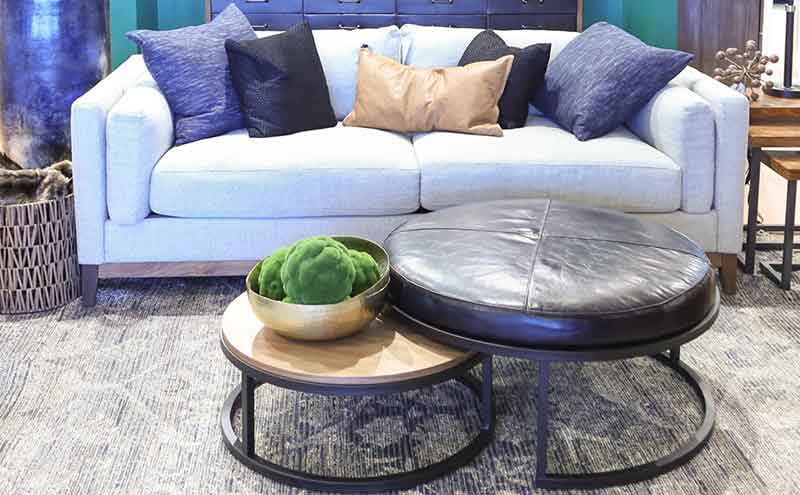 Maybe you have an oddly shaped room or your space simply isn't big enough for a table- no matter the size. Maybe you want something that adds color or comfort. Maybe you just like to do things differently! There is no hard and fast rule that says you have to have a coffee table!
Cocktail ottomans, pairs of ottomans and small tables layered together can all substitute for a traditional coffee table!
Shop cocktail ottomans:
Shop The Article
Ideas + Advice
November 16, 2023
At its core, Organic Modern interior design celebrates the marriage between the contemporary and the organic. It integrates natural elements such as wood, stone, and plant life into modern spaces, creating an environment that feels fresh, natural, and inviting. Characterized by soft curves, raw natural materials and open spaces.
Read more

about "Organic Modern Style for Every Budget"