August 31, 2020
The Best Barstools for Every Budget
Pictured in Header: Ashley Bellatier Adjustable Swivel Barstool
Looking to update your kitchen island or home bar with some complementary seating? Well, a barstool might be your missing piece! It offers a design that can be used for enjoying informal family meals at the breakfast bar or having a well-deserved after-work drink at your home bar. Whether you need an affordable barstool for your college apartment or an upholstered barstool to match your style, Homemakers has a wide selection for every occasion. No matter the budget, check out what barstools are all the rage!
The Look For Less
Want to purchase some barstools without spending the big bucks?? With high appeal and range in style, barstools are great for enhancing your aesthetic. They provide an informal feel and pair nicely with a breakfast bar or in-home bar.
Office Stars Bristow Collection features a range of affordable barstools to suit every interior color palette. Its backless design and thin metal construction, paired with a distressed look, display a minimalistic look you can't ignore. All for a great price!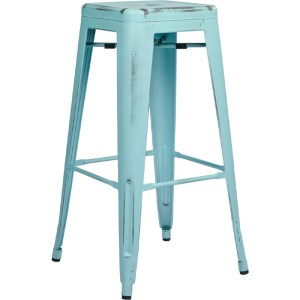 Office Star Bristow Sky Blue Barstool
$, $$, or $$$
Price is an important factor when it comes to furniture shopping, and it can be a deal-breaker for some of us. However, tons of affordable barstools also look drop-dead gorgeous. Take a look at some hot pieces that are currently flying off our shelves!
Under $100
is
$135.00
, was
SRP: $179.00
You save: $44.00
is
$105.00
, was
SRP: $139.00
You save: $34.00
is
$135.00
, was
SRP: $179.00
You save: $44.00
is
$175.00
, was
SRP: $219.00
You save: $44.00
Counter Stool vs Barstool
The noticeable difference between a barstool and a counter stool is height. The distance of your stool from your table or bar is key, so it's important to measure the height of both before going shopping. The average height of a barstool is 28-30 inches, meaning your table or bar needs to be at least 40-42 inches tall. In comparison, a counter stool is 24-26 inches and needs a table that measures at 36-38 inches tall. Refer to the graph above to understand what height your barstool requires for comfortable dining.
Counter Stools
Although a counter stool looks similar to a barstool, it's a lot shorter in height. It complements a variety of rooms as additional seating: including the kitchen, basement, or dining room. And when grouped, they pair nicely with counter-height dining tables! Take a look at some of our top picks for counter stools!
The Kuka counter stool has everything for your sophisticated space. It features a fully padded seat and back for ultimate comfort, and offers button tufting for a subtle hint of style. The supple faux-leather upholstery makes a statement in any room.
Want to create a focal point to your dining space? This Copper counter stool does just that with its solid maple wood construction, elegant ladder-back design, and rounded seat. Topped with a dark rubbed finish, this counter stool offers premium style.
Barstool Styles
When buying a barstool, don't be afraid to consider more than the price. Here's a list of all the different styles you could ever need in a barstool!
Upholstered Barstools
If you're looking for something with extra padding, contemplate buying an upholstered barstool! They offer comfortable seating for you and your guests and look good while doing so. You can choose anything from fabric, vinyl, or leather when you consider going down the upholstery route!
Back Design
There are a wide variety of back designs when it comes to barstools. Ladder-back, slat-back, Windsor, X-back, the list goes on and on! You can also opt for a backless barstool and flaunt a minimal look.
Construction
Just like any other furniture piece, barstools can be constructed with different materials, such as wood or metal, and offer different abilities, like swivel and tilt options.
Leg Styles
Similar to back designs, a barstool's legs can come in different styles, including turned, splayed, or tapered. You can even find barstools with added footrests for extra comfort.
Adjustable Heights
Adjustable heights are key when purchasing a barstool. You can alter it to your desired height, such as raising it so children can reach the table or lowering it to accommodate a counter table.
---
A barstool can make or break your entire dining room or home bar setup. Check out all barstools to find the perfect one for you!
Ideas + Advice
November 16, 2023
At its core, Organic Modern interior design celebrates the marriage between the contemporary and the organic. It integrates natural elements such as wood, stone, and plant life into modern spaces, creating an environment that feels fresh, natural, and inviting. Characterized by soft curves, raw natural materials and open spaces.
Read more

about "Organic Modern Style for Every Budget"