March 30, 2020
What's in My Sofa?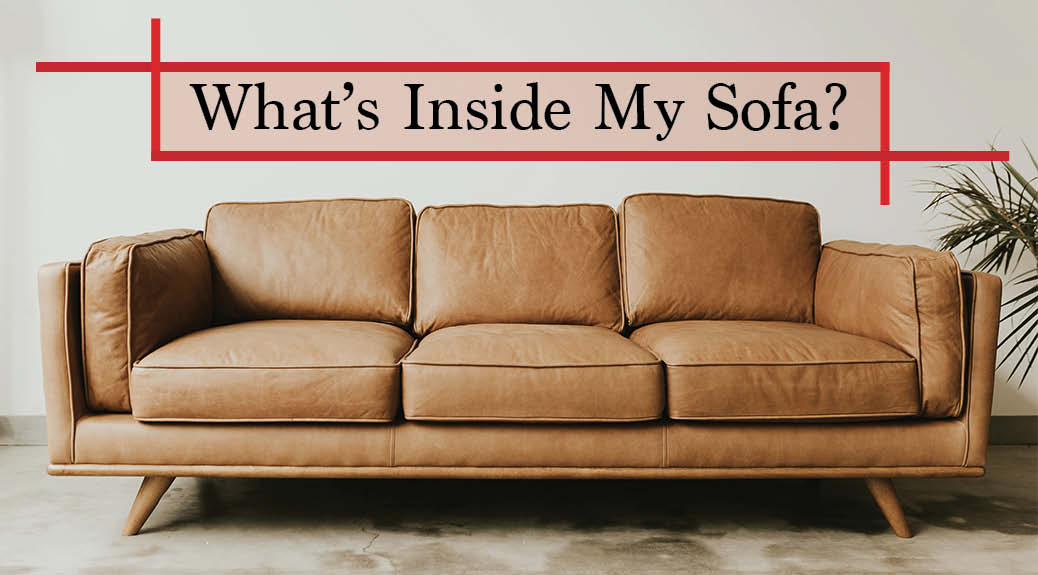 Have you ever sat on your sofa and thought, I wonder what's inside of here? Other than loose change and old cheerios, there are multiple pieces and parts that make up the construction of a sofa. In summary, the main components are spring construction, seating frame, and cushion filling. Sofa components are important in determining the lifetime of your sofa! Check out the different elements that compose your sofa to learn what each one does (and which one means more comfort and support for your behind!)
Spring Construction
Sinuous Spring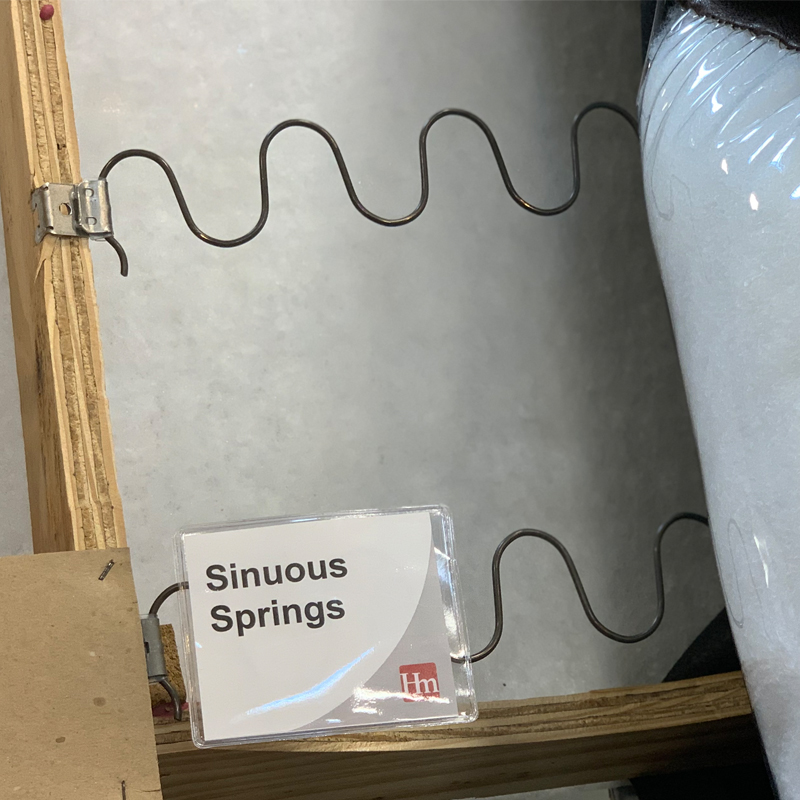 Sinuous spring is the most common type of spring construction. This type of sofa component is a metal, S shaped wire that creates a zig zag shape. They come in single strands that are set in rows, several inches apart. They're individually attached to the frame of the sofa. This construction makes it easier (and cheaper) to replace if one of the wires breaks. When pressed on, the sinuous spring creates a flexible, spring-like action that provides support to your body.
Nylon Webbing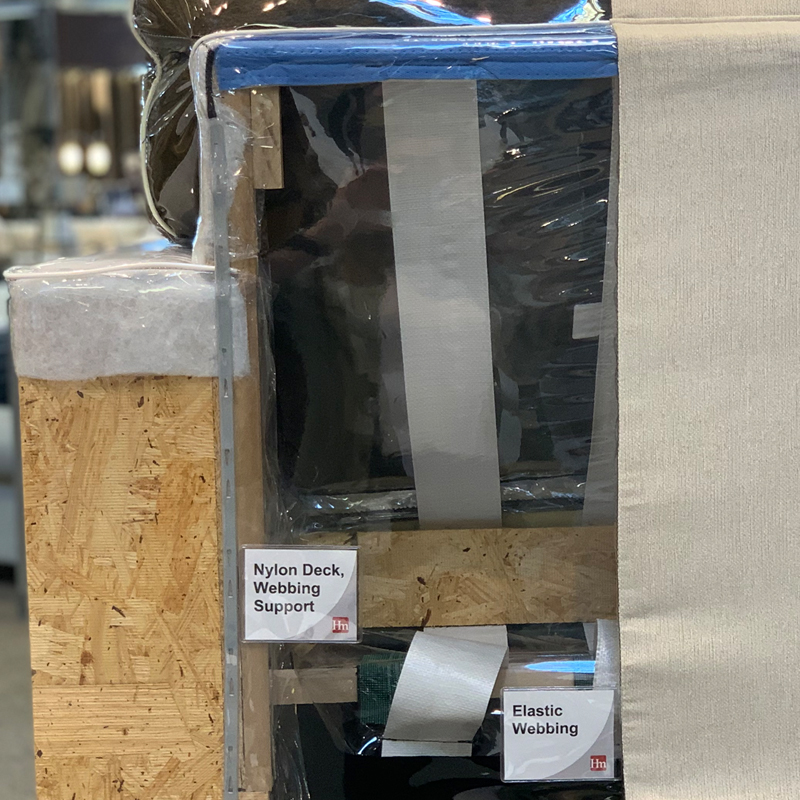 Nylon webbing is one type of spring construction used to support your sofa cushion. It is crafted from a lightweight material in the shape of a strap. This strap-like construction is two to three inches wide almost like a car safety belt. It is then stretched and woven to create a hammock-like support and durable base for cushions. This nylon webbing construction is common for spring construction in sofas or chairs.
Coil Spring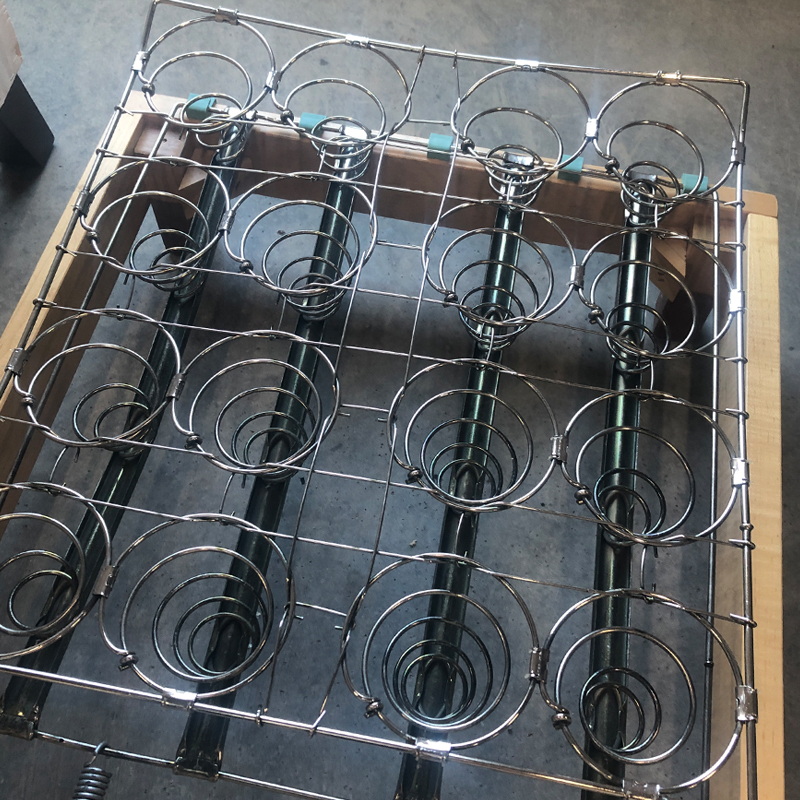 To provide durable comfort, the drop-in coil spring construction has multiple metal springs in the seating area. This type can be used for the seat and back spring support. It comes in one piece that contains individual coils kept in place with more metal wiring, which can sometimes lead to squeaking when sat on.
Sofa Frame
Plywood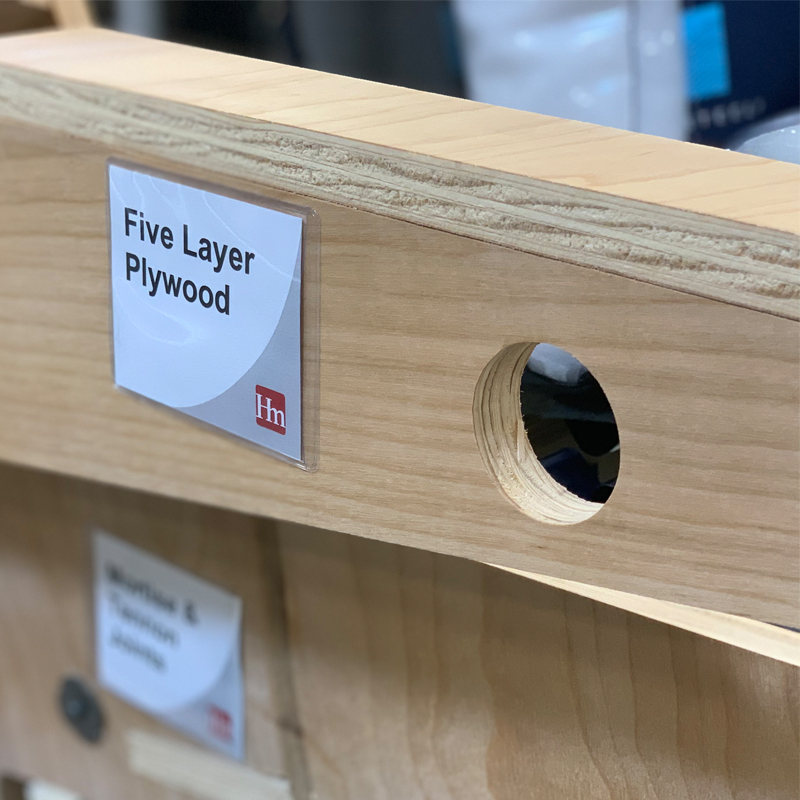 Plywood is a material generated from thin layers of wood veneers that are glued together to created layers of wood. Depending on the level of quality the manufacturer wants the furniture to be, these layers can range from three to seven layers. The more layers, the more durable and thicker the wood is, ultimately making the frame stronger and last longer. The layers are glued at different angles to one another to create a low-density, lightweight piece.
Particle Board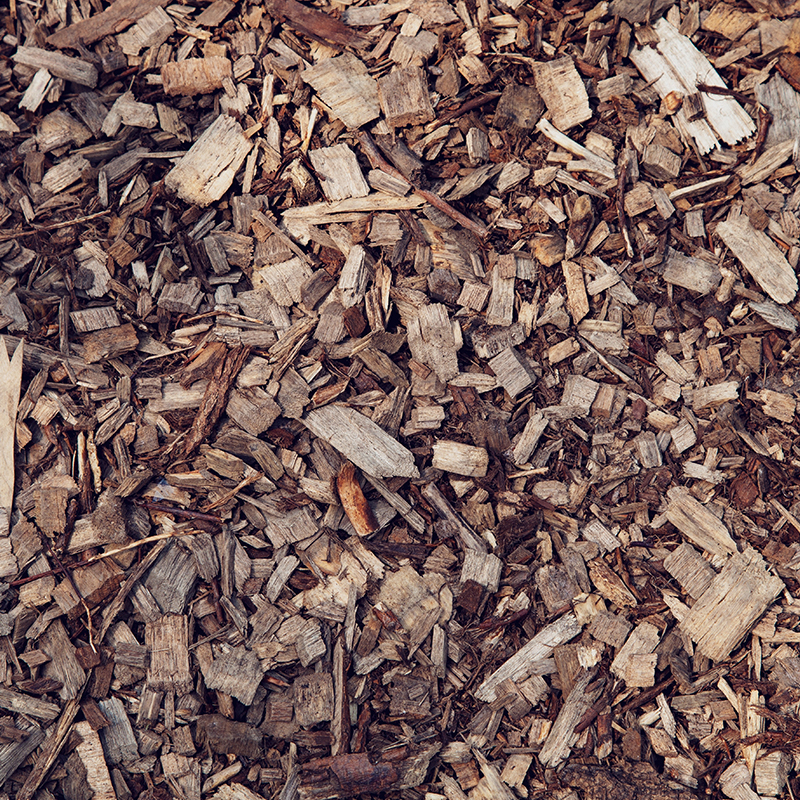 Particle board is another type of material used in sofa frames that's made from engineered wood, manufactured from left-over wood (such as wood chips and sawdust). Wood fibers are glued together and pressed to create a product that will not warp or expand. Particle board is denser than plywood, meaning it weighs a lot more.
OSB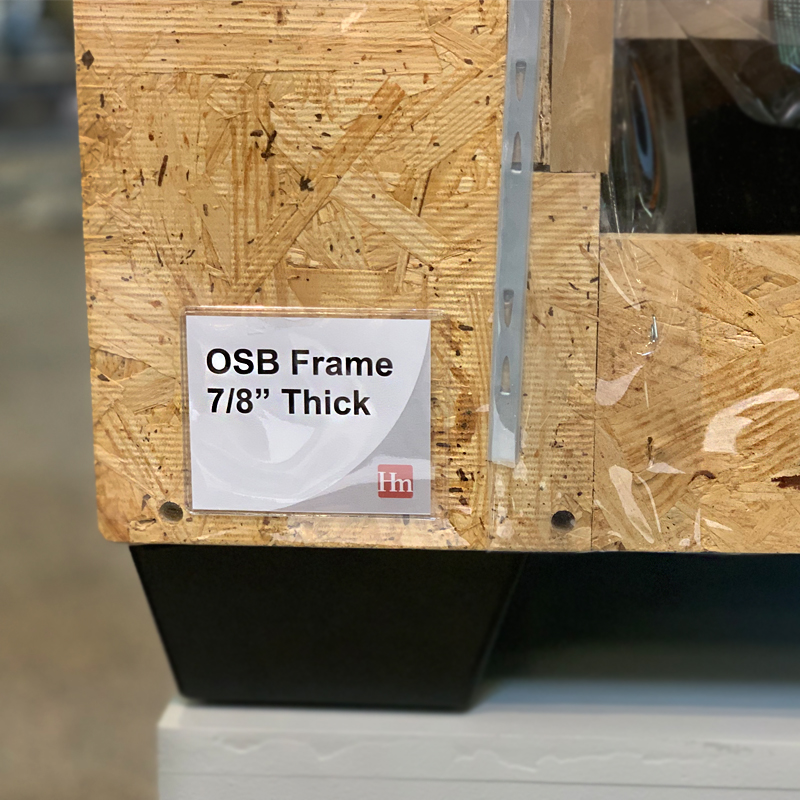 Similar to particle board, oriented strand board (OSB) is an engineered wood manufactured with wood strands. These strands are then compressed with waterproof, heat-cured adhesives in different orientations for ultimate durability. OSB is less expensive than plywood and it is much more environmentally friendly, since it uses left-over wood as a source. Other than furniture construction, OSB can be used in home construction for walls and flooring.
Cushion Filling
Foam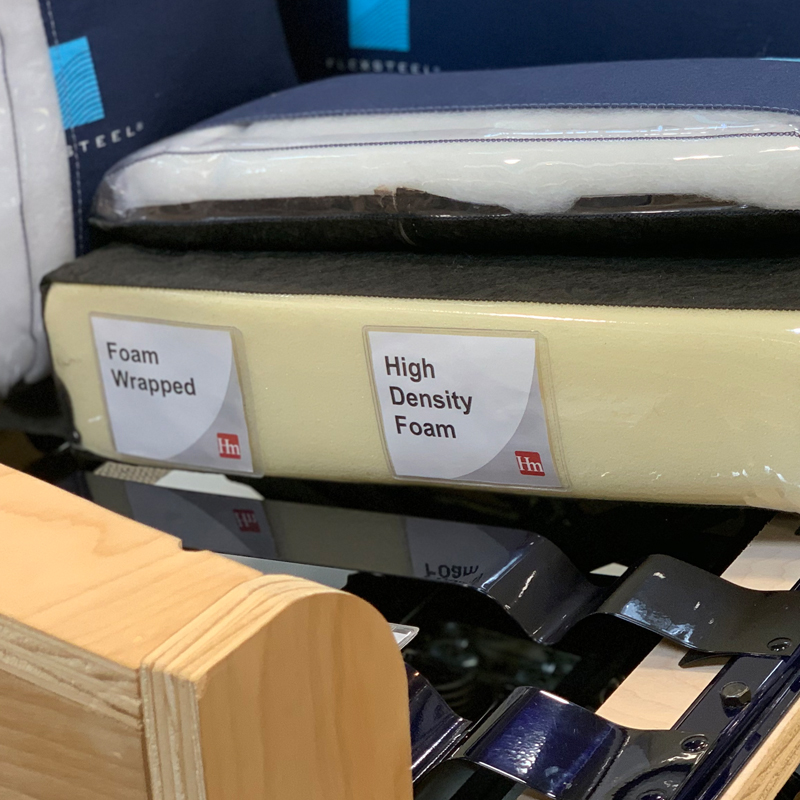 Now, the most important part of what's in a sofa is the cushion filling, right? It's the sofa component that our bodies have the most direct contact with and is a key factor when determining whether or not to purchase a sofa. There are multiple cushion filling types that each vary in price and quality. Foam holds its shape and comes in multiple densities, making it a versatile piece for comfort. And since it avoids using feathers or loose fibers, there's no fluffing needed!
Gel-Infused Memory Foam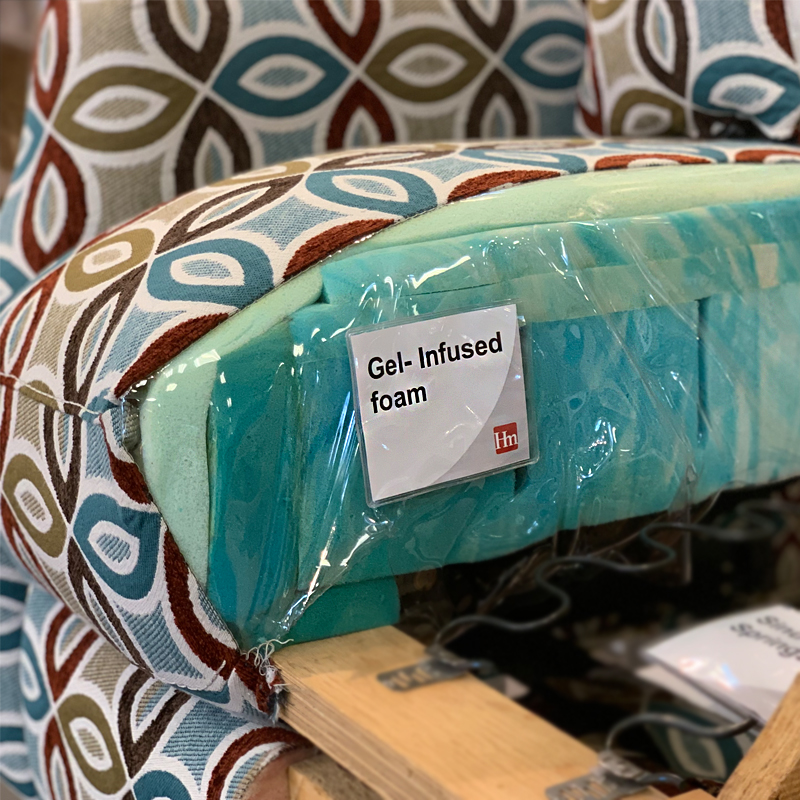 Gel-infused memory foam isn't just found in mattresses. This material not only forms to your shape and supports every inch of your body in bed, but also on a sofa! It has layers of soft memory foam to create a higher density cushion to make a softer seat for your body. This type has the highest quality of cushion filling, because it molds to your body and retains its shape!
Blown-in Fiber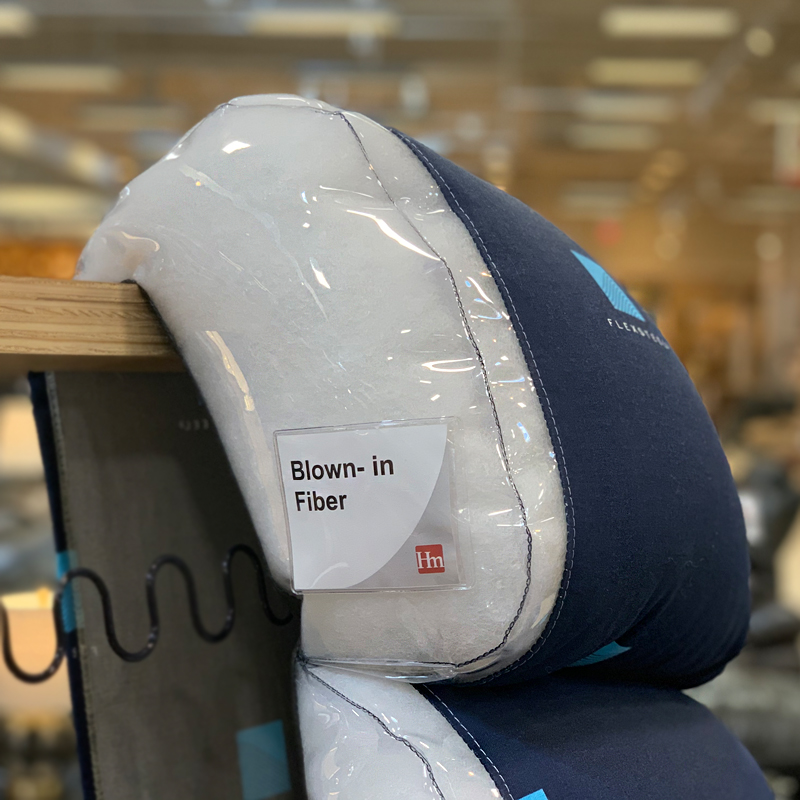 Blown-in fiber is another type of cushion that is commonly used in sofas. This type of filling comes as loose fiber pieces and is stuffed and sewn directly inside of the sofa fabric itself. These loose fibers offer a comfortable cushion for back support for multiple seating positions. However, overtime this cushion filling can start to lose its shape. But don't fret! It's nothing a little fluffing can't fix.
Additional Sofa Components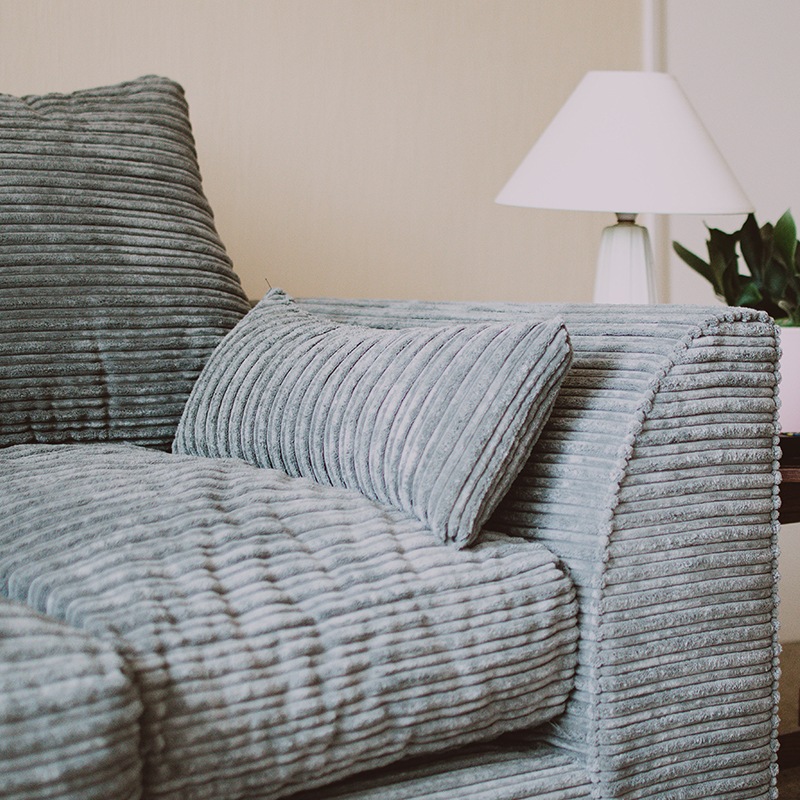 here are so many sofa components that it can be hard to keep up! Here are additional components, and key words to look for when searching for a sofa that's comfortable, durable, and stylish!
Including:
Corner blocks: Edges of the frame are sometimes have additional wood for extra support and durability to keep your frame from splitting or warping.
Eight-way tied springs: Similar to coil springs, this type of construction is extremely durable which is why it has a higher price point. Springs are supported by webbing or twine that are then tied eight ways to ensure suspension and to prevent squeaking.
Padded arms and sides: Some sofas may or may not have padded arms and/or sides. Padded arms bring extra comfort to arm rests, while the padded sides are typically found in high-end sofas and add to their overall value. Extra features like these also provide an extra line of defense for your sofa to prevent damage to the frame.
Feet: The feet of the sofa can be manufactured with different materials. Depending on the price, your sofas feet may be made with either plastic or solid wood.
Padded edge: Edges of the frame are sometimes padded to provide more support for your cushion. It does more than you think by preventing your cushions from sagging prematurely.
---
Understanding what spring construction, framing, and cushion filling your sofa have can sometimes help you identify the lifetime of your sofa. The higher the price, the better the quality. Next time you're shopping for a new sofa, make sure to ask about these sofa components so you can find the perfect one for you!