June 18, 2018
Your Guide to the Best Outdoor Fabrics for Patio Furniture
Updated: 08/07/2019
How should you determine which outdoor fabric is right for you and your patio? Many options are available today so it can be overwhelming to learn the differences between fabric types. We're here to help you learn what certain terms mean and what to look for while patio furniture shopping!
As you're willing to learn how to care for your fabric, using outdoor furniture with fabric and cushions on your patio isn't necessarily a bad thing.
Your Guide to Outdoor Fabrics
Sunbrella Outdoor Fabric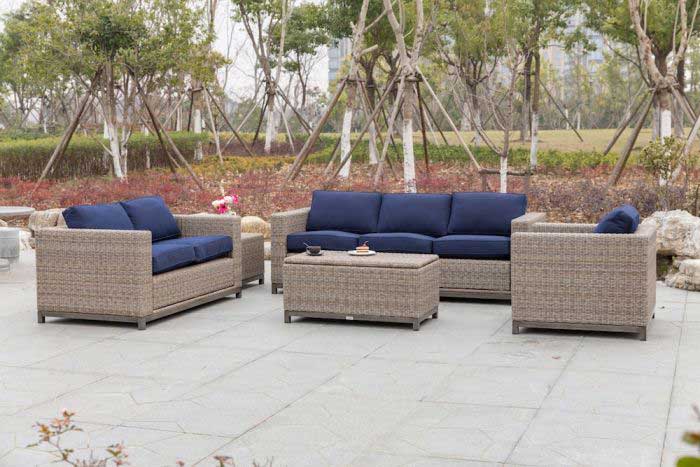 Plank & Hide Judd Collection
Sunbrella is a 100% solution-dyed acrylic, meaning the pigment is added to the fabric even before the yarn is created. This weather-resistant upholstery lasts longer than traditional fabrics.
When considering long-lasting color, solution-dyed acrylics are like a carrot, meaning the color is the same for every layer. Yarn-dyed fibers are just on the outer surface of the fabric, like an apple peel. These tend to wear out and fade over time.
Sunbrella is an eco-friendly option. Virgin Sunbrella fabric is combined with 50% post-industrial recycled Sunbrella fibers to create the patio furniture fabric. This allows the fabric to have its softness, rich colors and durability, while also being a sustainable choice.
Sunbrella fun facts:
Stays cool in sunlight
Water-, fade- and mildew-resistant
Eco-friendly
Nuvella Fabric from Ashley Furniture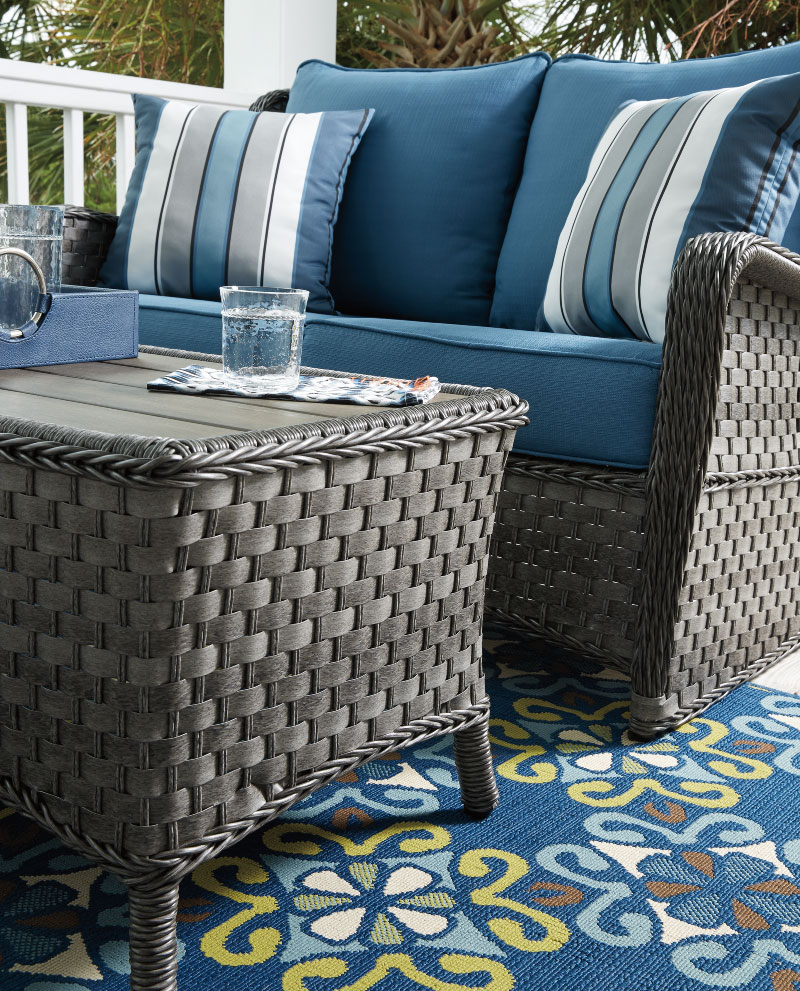 Ashley Abbots Court 4-Piece Outdoor Set
Nuvella fabric is an exclusive to Ashley Furniture. This fabric is made of solution-dyed synthetic fibers. This solution protects the furniture from stains and prevents fading. No water waste is generated through this dyeing process and even the fibers are also eco-friendly.
CARE
Clean stains with two ounces of mild soap for every gallon of lukewarm water. Use a soft-bristle brush to scrub, rinse well and let air dry.
If necessary, use one cup of bleach for every gallon of water and spray this solution onto the non-coated side of the Nuvella fabric and rinse immediately. Do not soak your fabric in the bleach solution! Soaking will damage the protective UV coating.
Yes! Your Nuvella fabric can be cleaned with bleach while maintaining the original color (if done correctly).
Nuvella fun facts:
Solution-dyed acrylic
Fade- and stain-resistant
Easy to clean
Eco-friendly
Olefin Fabric
Olefin is a synthetic fiber made from a polyolefin (such as polypropylene or polyethylene). This is a lightweight, tough option for outdoor furniture. It is also even used in other things such as wallpaper, carpet and vehicle interiors. This has a wool-like feel.
Olefin fabric is usually solution dyed, meaning the color is added directly to the polymers of the material before or during the melting process.
ENVIRONMENTALLY FRIENDLY
Producing olefin is an environmentally-friendly process, resulting in little byproduct. Olefin is also recyclable and can be re-extruded up to 10 times. This means it can be reformed into other pieces many times.
CARE
Keep in mind, olefin is heat-sensitive which doesn't affect the day-to-day use, but it can break down in extremely high temperatures. Olefin fabrics should be line dried or tumble dried with gentle or no heat.
Avoid ironing olefin fabric- but if you have to iron it, keep the iron at the lowest temperature possible.
Olefin fun facts:
Strong
Lightweight
Durable
Fade- and stain-resistant
Usually solution-dyed (color added directly to the polymers before/during melting)
Creates almost no waste
Line dry or tumble dry with little to no heat
O'bravia Fabric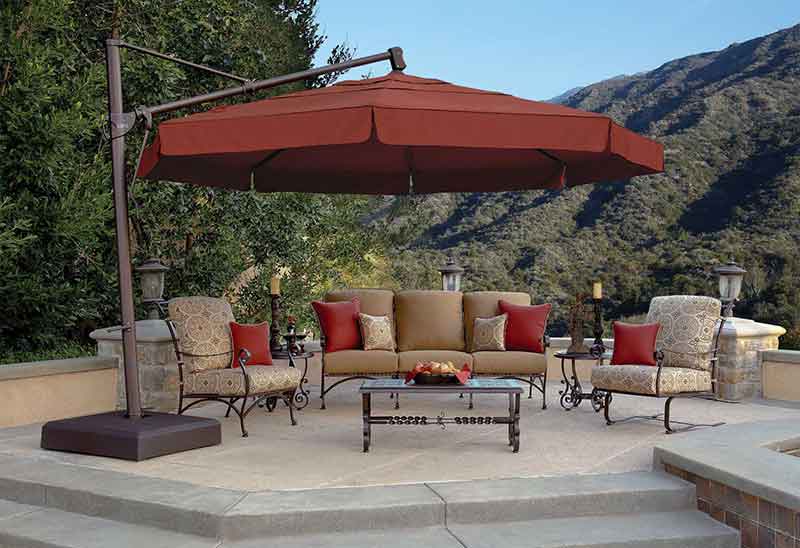 O'bravia is a fabric blend of 100% solution-dyed polyester. This recyclable fabric is an earth-friendly option for patio cushions and fabrics, including umbrellas. O'bravia fabric, found in many Treasure Garden umbrellas, is an easy-to-clean, durable option for your patio.
O'bravia fun facts:
Easy to clean
Earth-friendly
100% solution-dyed polyester
Strong and durable
Outdura Fabric
Outdura is another 100% solution-dyed acrylic fabric. The color is added to the fabric during the manufacturing process, like Sunbrella. This is fade-, stain- and water-resistant. Outdura fabrics are made in Hudson, North Carolina.
Acrylic yarn is resistant to UV rays. It doesn't need any additional protective coats to protect it from UV rays, which can cause fading in the fabrics' color.
Outdura fun facts:
100% solution-dyed acrylic
Fade-resistant
Easy to clean
Mold and mildew resistant
Breathable
Made in the USA
Feeling inspired?
We hope you now know what types of outdoor fabrics to look for. There are many high-quality, eco-friendly, weather-resistant fabric options that are in it for the long haul.
Feeling inspired? Don't miss another post. Be the first to know about the latest furniture trends, home solutions and new additions to our showroom. Subscribe to Hm etc. today!
Ideas + Advice
November 16, 2023
At its core, Organic Modern interior design celebrates the marriage between the contemporary and the organic. It integrates natural elements such as wood, stone, and plant life into modern spaces, creating an environment that feels fresh, natural, and inviting. Characterized by soft curves, raw natural materials and open spaces.
Read more

about "Organic Modern Style for Every Budget"