Free* Express Shipping Statewide
*Free on qualifying orders of $499 or more
For your convenience, Homemakers offers statewide Express Shipping—free on qualifying orders! Learn more about our Express Shipping service or explore our other delivery options, including in-home delivery.
Enjoy Express Shipping Statewide from Homemakers Furniture
Homemakers offers FREE express shipping in the state of Iowa for any order over $499. If your order is less than $499, a flat fee of $39.99 will be applied. Free express shipping is Monday through Sunday. Just schedule the delivery date you want for your furniture. Get it as soon as tomorrow, even on the weekend! Orders stocked in our warehouse will ship out promptly. For your convenience, free express shipping includes placement of all furniture in factory packaging inside your garage, in your driveway, or outside the first-floor entry of your home or apartment. On the day of your shipment, you can track your order on our website using our delivery tracker.
*FREE Express Shipping qualifications:

Minimum purchase of $499 per shipment
Shipped in the state of Iowa
Not valid on prior purchases
Not valid on employee or employee family purchases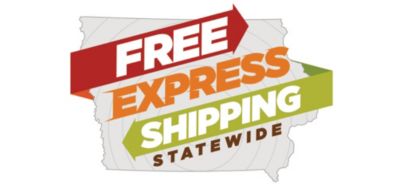 Please note: Free express shipping excludes pool tables, accessories and clearance accessory items. Orders must be paid in full or financed before you may schedule free express shipping. We do not accept payments at the time of shipment under any circumstance. Any products that require assembly will be the responsibility of the customer.
See More Delivery Options
If free express shipping doesn't work for your needs, Homemakers offers several other delivery options for an additional charge, including in-home delivery. To find the best fit for you, browse all delivery options at Homemakers!
If you have any additional questions regarding shipping and delivery, please call (515) 727-1370 or call toll-free (888) 818-7283.
Delivery Office Hours
Monday–Friday: 8am - 8pm
Saturday: 8am - 7pm
Sunday: 8:30am - 6pm
Please note: Holiday hours may vary. We will post any special hours/closings on our website, as well as on social media.